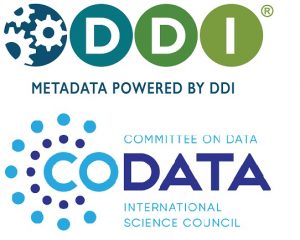 CODATA's partnership with the DDI Alliance on DDI-CDI is an important element of the CODATA Decadal Programme 2020-2030, 'Making Data Work for Cross-Domain Grand Challenges'. 
DDI-CDI is a model-driven, domain- and technology-neutral metadata specification designed to facilitate the combination of data from diverse sources and across disciplines.  The draft specification was released in early 2020, and the first production-ready specification will be released in August 2021.  The development was to some extent influenced by the series of workshops at Schloss Dagstuhl on the interoperability of metadata standards in cross-domain science, held in collaboration between the DDI Alliance and CODATA.

DDI-CDI includes three key features to facilitate the combination and integration of data from diverse sources and domains and the machine execution of that process:
information about variables (the 'variable cascade');

information about data structure; and

information about provenance and processing. 
DDI-CDI is designed to work with other metadata schema and with various semantic artefacts (vocabularies and ontologies).  Further information about the specification is linked below.
The Role of DDI-CDI in EOSC: Possible Uses and Applications
CODATA, in partnership with the DDI Alliance, successfully completed a European Open Science Cloud (EOSC) co-creation project in April 2021 which explored the potential uses and applications of the draft Data Documentation Initiative Cross-Domain Integration (DDI-CDI) specification for EOSC.
Report: The Role of DDI-CDI in EOSC – Possible Uses and Applications (external link) https://doi.org/10.5281/zenodo.4707263
A launch workshop was held on 11 June 2021 with the objective of discussing this report and further identifying cross-domain use cases for inclusion in future work.  The presentation and recording, and further information about the report, may be viewed at this page: DDI-CDI and EOSC.
DDI-CDI Webinar Series
In 2020, CODATA collaborated with the DDI Alliance on a series of webinars, workshops and conference sessions about DDI-CDI to encourage feedback and explore applications.  This work contributed substantively to the further development of DDI-CDI and to the identification of case studies, a process which was then reinforced by the report on DDI-CDI and EOSC.
DDI-CDI Documentation