Computer Network Information Center of the Chinese Academy of Sciences (CNIC)
About CNIC
CNIC's involvement in CODATA-CN and China's early data initiatives can be traced back to 1980s with CNIC's founding team as the main point of contact. In 1984, CAS joined CODATA as a national member. In 1986, the State Council approved CAS to construct the scientific database and its information system. CNIC's founding team also contributed to China's early Internet development. In April 1994, a 64Kbps international dedicated line to the Internet was opened at the main building of CNIC, making China the 77th country on the Internet on a permanent basis. One month later, the first root server of .cn domain name was established. CNIC was formally established in March 1995, and is now working on its strategic plan towards Center of Big Science Facility, a category of CAS organization reform.
CNIC has a long history of providing data, network, and computing services to the Chinese research community and science outreach services to the general public. After four decades of contributions to CAS data initiatives, CNIC currently operates the National Basic Science Data Center and the General Center of CAS Data Center System which provides infrastructures, tools and services addressing common technical problems across disciplinary boundaries. As one of the pioneers in China to construct the earliest backbone networks, CNIC has established itself as an important member of the international academic network and achieved high-speed connections with Internet backbones at home and abroad. Historically China's earliest provider of supercomputing service, CNIC now plays a key role as the operation management center of China National Grid and the supporting organization of Center of Scientific Computing Applications and Research of the CAS. Based on the advanced infrastructure and digital information in and out of the academy, CNIC initiated China Science and Technology Cloud in 2017, which is a national platform to provide scientists with efficient and integrated cloud solutions in the retrieval, access, use, transaction, delivery and other aspects of sharing information and services related to research and professional development. In addition, CNIC initiated Virtual Science Museums of China in 1999, which has become a domestically well-known brand for using new technologies to promote public understanding and appreciation of science.
During the process of designing infrastructure and services, CNIC research teams find answers to real-world problems through research and innovation. Up to now, CNIC has 12 R&D departments with R&D directions prioritized on various fields such as big data, network and cloud, high performance computing, artificial intelligence, new technology for science communication, and management informatization. CNIC has been undertaking a considerable number of national and local key R&D projects, with its research budget composed of 60% CAS funding and 40% competitive funding according to rough estimation.
CNIC also contributes to several international organizations on topics such as big data, advanced network and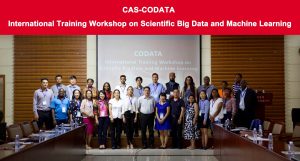 network technologies. In the CODATA family, CNIC serves as the Secretariat organization of the Chinese National Committee supported by the CAS as its national member. In 2019, CNIC participated in the organization of a series of CODATA events in Beijing including CAS-CODATA Training Workshop on Scientific Big Data and Machine Learning, International Open Research Data Policy and Practice, and CODATA Beijing Conference.

Delegate:
Lianglin Hu,
Director of National Basic Science Data Center,
Professor and Deputy Director of the Big Data Department of CNIC,
Email: hull(at)cnic.cn
Point of contact:
Yu Chen,
International Cooperation Manager,
Division of R&D Management of CNIC
Email: cy(at)cnic.cn
Tel: +8610-5881-2266
Website: http://english.cnic.cas.cn/
Objective
The goal of CNIC is to lead the way in establishing and supporting "e-science" in China. By "e-science" we mean the use of IT resources in all aspects of scientific research to improve efficiency and enhance scientific achievement. CNIC is also committed to serving the management of CAS by supporting its IT needs. CNIC aims to rank among the world's top supercomputing centers, data centers and science research networks. Realization of our goal relies on more than 700 employees and over 160 graduate students, all of whom work diligently together in an interdisciplinary manner.
Recent activities and outputs
CNIC has already basically established a secure and reliable cyber-infrastructure that includes a science and technology network, supercomputing environment, data resource platform, public outreach platform and CAS's Academia Resource Planning system. In the following Full Details subpage are key data about CNIC (current as of November 2013).