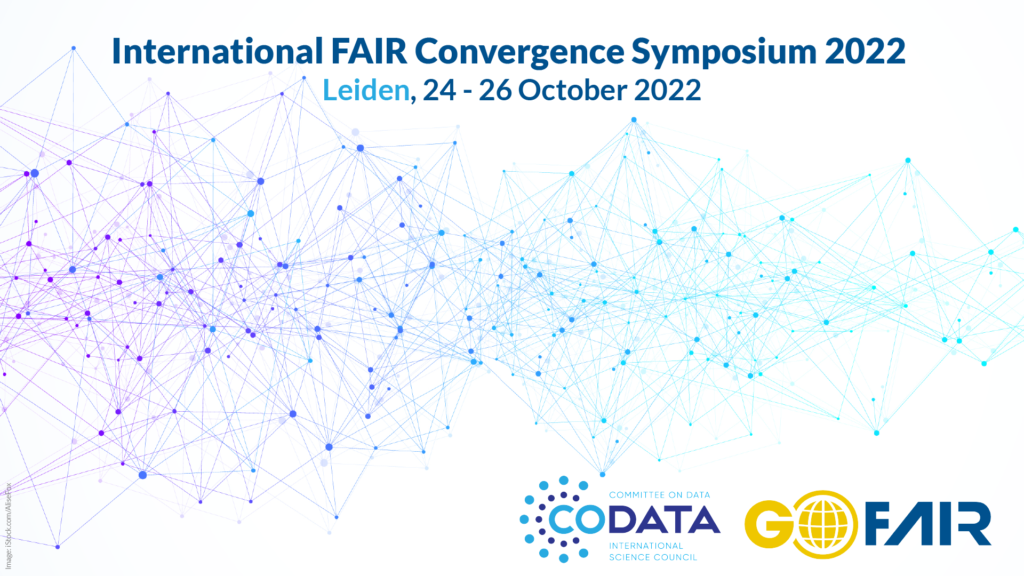 2nd FAIR Convergence Symposium, 24-26 October 2022 in Leiden, The Netherlands
An initial programme overview is now published and registration open. 
From 24-28 October, in the context of Leiden 2022: European City of Science, there will be a week dedicated to FAIR implementation and specifically to FAIR Digital Objects as the core 'machine actionable units of information' necessary to build an Internet and Web of FAIR data and services. The week features two closely related events: the 2nd FAIR Convergence Symposium (24-26 October) and the 1st International Conference on FAIR Digital Objects (26-28 October). The two events will explore the contention that the FAIR guiding principles, and their application through FAIR Digital Objects, are important steps to maximise the machine actionability of data and other information.
The co-organisers of the 2nd FAIR Convergence Symposium, CODATA and GO FAIR, agreed that this years' edition will concentrate on smaller, high-priority, strategic and working meetings to encourage convergence on and implementation of FAIR, rather than convening a large open Symposium so soon after International Data Week and in the context of ongoing challenges for intercontinental travel.
Most of the meetings will be organised as hybrid events, allowing for both in-person and online participation.
The following meetings and events are being planned and form the FAIR Convergence part of the week:
Plenary meeting of WorldFAIR case studies, targeted in particular on outcomes of the FAIR Implementation Profile workshops organised as part of the project deliverables;
Demo of FAIR Connect, an Open Access publishing platform for the development and dissemination of good practices for professional FAIR-Data stewardship;
Report on the series of FAIR assessments of data and services of the ENVRI Research Infrastructures using FAIR Implementation Profiles and on its impact on the FAIRification roadmap of ENVRI-FAIR;
Series of meetings to introduce and discuss FAIR Enabling Resources available for reuse by other domains (so called 'wheel' meetings);
In-person meeting of the Open Science Clouds Executives Roundtable (OSCER), a group of OSC executives convened following agreement to create such a group at the 1st FAIR Convergence Symposium;
Meeting of Directors (and key staff) of the GO FAIR National Support Offices.
The above list is not exhaustive and other interactive and working meetings may be added to contribute to convergence on selected aspects of FAIR implementation.
Programme Overview and Registration
An initial overview of the FAIR Convergence Symposium programme is available below. Please note that the programme is subject to change. Download the programme grid from here.
Most of the Symposium events are marked as Open sessions. To attend these events a registration should be completed at: https://bit.ly/FAIRConvergence2022Registration 
Registration for in-person participation closes on 14 October, 12:00 (pm) CEST. The seats are limited, thus we encourage early registration. 
Registration for virtual participation will remain open till 21 October, 12:00 (pm) CEST or until the virtual participation capacity is reached. 
All sessions will  be recorded and the recordings will be made available via CODATA Vimeo shortly after the event. Unless you plan to join the session virtually, please kindly leave the 'seat' to another colleague.