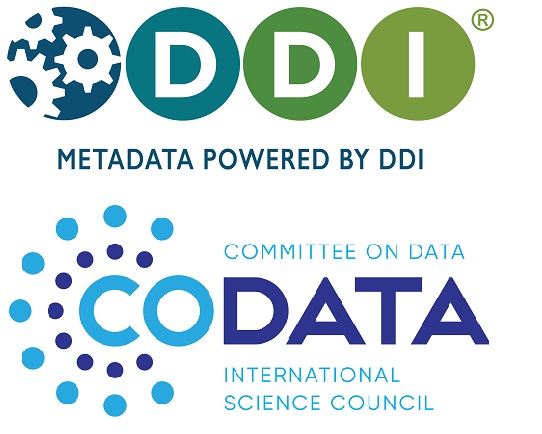 CODATA hosts webinars on a variety of topics relating to our activities: data policy, data science and capacity mobilising in relation to data.  The CODATA-Data Documentation Initiative (DDI) Training Webinars series is a collaboration with the DDI to reach new audiences and provide ongoing value to existing users, by demonstrating the value of DDI tools, products and standards to those creating, managing and using research data within the social, behavioural, and economic sciences.
We deliver a webinar approximately every four to six weeks on relevant topics that appeal to audiences both within the DDI community and beyond it.  Each webinar is 45 – 90 minutes, and has a theme that connects different aspects of data-rich research practice with DDI products.  Time is allowed for questions to ensure participants have a chance to engage directly with the expert presenters.  Presentations are recorded to provide a lasting resource for those wishing to learn about the DDI suite of standards.
Webinars in the 2022 series
A series of events is planned for 2022. Topics and the anticipated month for each webinar is as follows:
Webinars in the 2021 series
Please click the header for more information on the topic, and a video of the webinar.
1: Introduction to Metadata for Research Data Management: A Data Documentation Initiative (DDI) Perspective. 29 April 2021.
An overall definition and exploration of what metadata is and how it is used in data management, aimed at a broad audience and not only existing users of DDI.
2: Implementing FAIR: What DDI Can Do for You! 18 June 2021.
This presentation is aimed at audiences both inside and external to the DDI community.  It highlights where metadata is needed in terms of the FAIR principles and explains how different DDI products can help to support the implementation of FAIR.
3: Data Integration: Using DDI-CDI with Other Standards. 2 September 2021.
This webinar takes a cross-domain data integration example and shows how DDI-CDI, in combination with other standards, can facilitate the integration of disparate data. This includes the idea that data from different sources might be integrated in a largely automated fashion supported by the DDI-CDI description of the data structure and variables/datums.
4: Data Quality: Thinking about Quality and DDI Metadata. 18 November 2021.
Data quality is a topic which is often discussed and attracts a lot of interest, but the way in which it is approached varies widely.  This webinar examines different approaches in the use of metadata for describing data quality from the perspective of data producers in official statistics and in the scientific and research domains, and how DDI fits into this picture.
5. DDI Training Fair at the 2021 European DDI Users' Conference. 26 and 29 November 2021.
The DDI Training Group organized a series of tutorials around the 2021 EDDI Users' Conference. This includes a general overview of the DDI standards on 26 November 2021, followed by a series of more detailed tutorials on Monday 29 November, and a session describing the software tools and services available for implementing DDI.
Find out more
Learn more about DDI at https://ddialliance.org/
Learn more about CODATA webinars at https://codata.org/events/webinars/
Last updated: 2022-10-12.