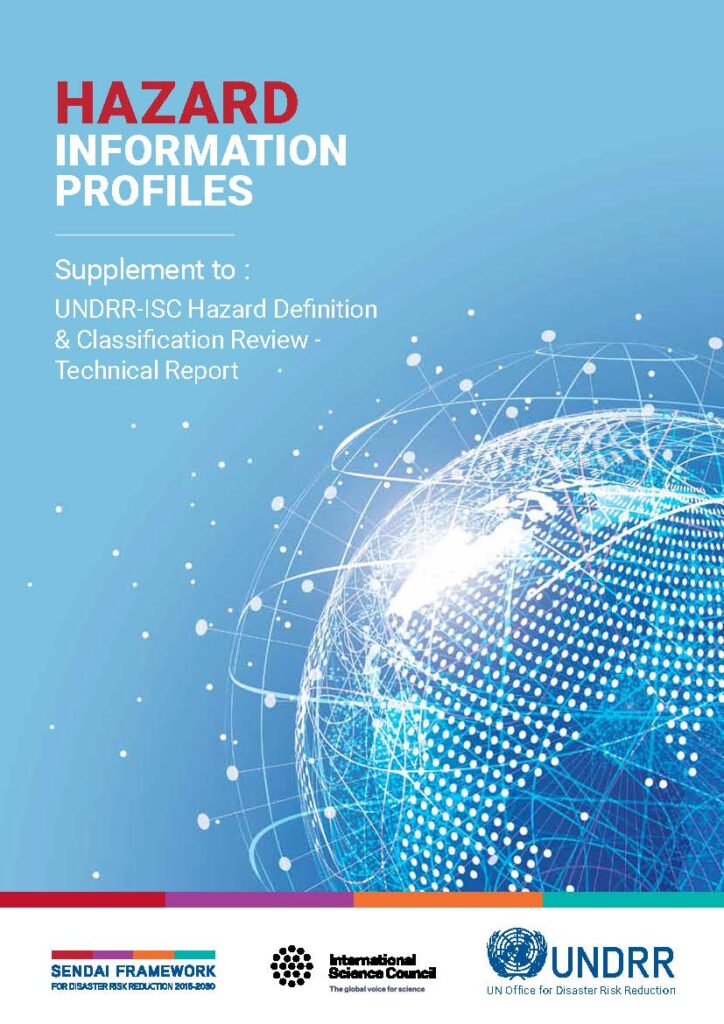 The 
UNDRR/ISC Hazard Information Profiles
 are a supplement to the 
UNDRR/ISC Hazard Definition & Classification Review: Technical Report (2020)
. The supplement comprises a description of 
each of the 
302 hazard information profiles (HIPs)
, developed using a consultative process by scientists and experts across the globe.
The Technical Working Group was chaired by Virginia Murray, Head of Global Disaster Risk Reduction, UK Health Security Agency and a member of the CODATA Executive Committee.
Launch of the UNDRR/ISC Hazard Information Profiles: Supplement to UNDRR/ISC Hazard Definition & Classification Review: Technical Report (2020) 4th October 2021
With disasters increasing in intensity, severity and impacts across the globe, improving risk information across all types of hazards is critical to enhance our capacity to anticipate, prevent and respond to disaster risks from the local to the global scales. One barrier to sharing and using risk information effectively has been the lack of standardized definitions of hazards and a lack of guidance on the full range of hazards from hydrometeorological, extraterrestrial, geological, environmental, chemical, biological, technological and  societal that need to be addressed in risk management.
The UNDRR/ISC Hazard Information Profiles Supplement to UNDRR-ISC Hazard Definition & Classification Review: Technical Report (2020) is the first ever compilation of definitions of over 300 hazards that are relevant to the 2015 United Nations landmark agreements of the Sendai Framework for Disaster Risk Reduction, the Paris Agreement on climate change and the Sustainable Development Goals.
The last two years have shone a light on the need for a more holistic approach to understanding risk with countries facing multiple and compounding disasters such as heatwaves, cold waves, wildfires, floods, locust invasion, pandemic and others. Many of these hazards are defined in multiple ways which can hinder the sharing and integration of information. Improving hazard definitions needs to be built on scientific evidence and collaboration across institutions and sectors.
With 100 authors and 130 reviewers involved in the development of the hazard information profiles, this work has stimulated a process of multi-disciplinary and multi-sectoral collaboration on using science-based information to better define hazards and the data requirements to measure them effectively.
This compilation of existing information provides a starting point for bringing together information on hazards that will need to be regularly reviewed and updated by the relevant international institutions in partnership with the scientific community in order to build an information ecosystem better suited to the risks of today and tomorrow.
"In a world with increasingly interconnected world where over 300 hazards threaten our development gains, political and financial stability and the lives and wellbeing of millions of people, it is critical to accelerate our common knowledge and understanding of how to prepare, reduce and prevent multi-hazard risk. Developed through extensive collaboration across sectors, fields and agendas, we hope that this report will be a useful complement to our joint efforts towards standardized approaches to resilient, sustainable development. . "
Mami Mizutori
Special Representative of the Secretary-General for Disaster Risk Reduction
United Nations Office for Disaster Risk Reduction (UNDR
R)
"With this supplement, we want to celebrate a collective achievement and encourage a stronger engagement process between the science and policy communities at all scales, to bring our knowledge on risks and its multiple dimensions to bear in monitoring, assessment, planning and decision-making. Robust information and processes to share data and expertise are essential capabilities to help achieve risk-informed development."
Dr Heide Hackmann
CEO, International Science Council
"As chair of the Technical Working Group for the UNDRR/ISC Hazard Definition and Classification Report I want to thank all members of the group, all the authors and reviewers of the UNDRR/ISC Hazard Information Profiles for their commitment and engagement to deliver this work. To develop standardised understanding of hazards is such an important step forward that will facilitate, we believe, engagement with a range of users working in disaster risk reduction, emergency management, climate change, and sustainable development. The Hazard Information Profiles will ensure synchronization among global and national mechanisms and processes. We hope these will be useful, usable and used by many and we look forward to hearing how they will support people.
Professor Virginia Murray
Head of Global Disaster Risk Reduction, UK Health Security Agency; CODATA Executive Committee; and Chair of the Technical Working Group
Related information
Hazard Information Profiles: Supplement to UNDRR-ISC Hazard Definition & Classification Review – Technical Report
Hazard definition and classification review
Sendai Framework for Disaster Risk Reduction 2015-2030
Chart of the Sendai Framework for Disaster Risk Reduction 2015-2030
Sendai Framework at a Glance
Sendai Framework Indicators
Climate change 2021: the physical science basis (AR6)