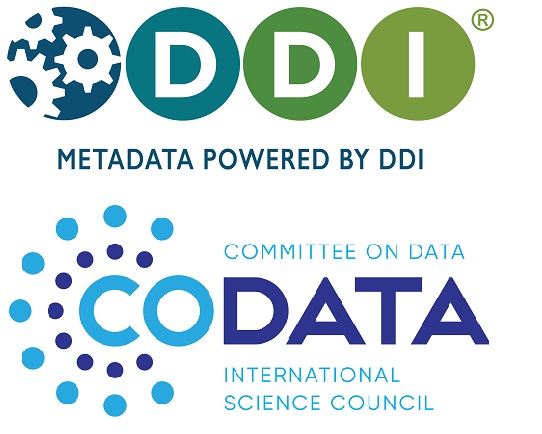 CODATA and the Data Documentation Initiative (DDI) are delighted to announce topics for our upcoming 2022 season of training webinars!
This year's series of webinars will begin in March and continue through the rest of 2022, covering a diverse range of topics to help users to understand and effectively deploy the DDI suite of tools and standards.
Whilst exact details and dates will be confirmed soon, topics covered in the 2022 series of training webinars will be as follows:
March 2022: DDI Working Together with Other Standards
April 2022: Metadata Uplift – PDF/Excel to Structured DDI Documentation
May 2022: Vive les Métadonnées! (Les bases de DDI en français / DDI basics in French)
June/July 2022: DDI Controlled Vocabularies, the CESSDA Workbench, SKOS and XKOS
Oct 2022: How to Document Variables w/ DDI Lifecycle and DDI Cross Domain Integration – the Variable Cascade
Nov 2022: Survey of Implementation Examples/Use Cases of DDI-Cross Domain Integration
All webinars in the series are free to register for and attend, and will be in English unless otherwise specified.  There will be plenty of time at each event for questions and answers.  Each webinar will be recorded and this recording will be made available online after the event.
Recordings of the 2021 series of training webinars are also still available online.  Please visit https://codata.org/initiatives/data-skills/ddi-training-webinars/ to access videos and presentations on the following topics:
1: Introduction to Metadata for Research Data Management: A Data Documentation Initiative (DDI) Perspective (April 2021)
2: Implementing FAIR: What DDI Can Do for You! (June 2021)
3: Data Integration: Using DDI-CDI with Other Standards. (September 2021)
4: Data Quality: Thinking about Quality and DDI Metadata. (November 2021)
5. DDI Training Fair at the 2021 European DDI Users' Conference. (26 and 29 November 2021) (Includes 'Discovering DDI', a DDI Codebook tutorial, a DDI Lifecycle tutorial, a DDI Cross Domain Integration (DDI-CDI) tutorial, and an overview of DDI Tools and Services.)
These materials are made available under the Creative Commons Attribution (CC-BY) license 4.0.  We hope you enjoy the recordings from 2021, and we look forward to seeing you at our 2022 series of free events!
Learn more about DDI at https://ddialliance.org/
Learn more about CODATA webinars at https://codata.org/events/webinars/