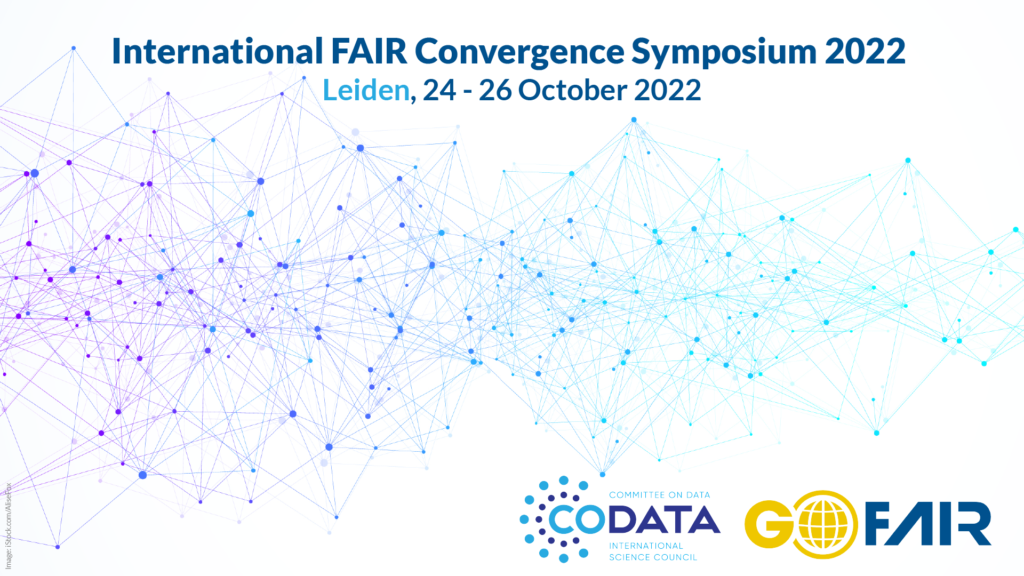 An initial programme overview is now published and registration open. 
The 2nd FAIR Convergence Symposium is organised by CODATA and GO FAIR on 24 – 26 October 2022 in Leiden, The Netherlands, as part of the Week Focused on FAIR. 
This years' edition will concentrate on smaller, high-priority, strategic and working meetings to encourage convergence on and implementation of FAIR. The meetings are being organised as hybrid events, allowing for both in-person and online participation.
An initial overview of the FAIR Convergence Symposium programme is available at: https://codata.org/events/conferences/fair-convergence-symposium-2022/  
Please note that the programme is subject to change. We encourage colleagues to check that page for new iterations.  
Most of the Symposium events are marked as Open sessions. To attend these events a registration should be completed at: https://bit.ly/FAIRConvergence2022Registration 
Registration for in-person participation closes on 14 October, 12:00 (pm) CEST. The seats are limited, thus we encourage early registration. 
Registration for virtual participation will remain open till 21 October, 12:00 (pm) CEST or until the virtual participation capacity is reached. 
All sessions will  be recorded and the recordings will be made available via CODATA Vimeo shortly after the event. Unless you plan to join the session virtually, please kindly leave the 'seat' to another colleague.
While detailed descriptions and announcements of the individual workshops and sessions will be published in the coming days, these events may be worthwhile highlighting. 
CODATA International Data Policy Committee (IDPC) Workshop: Mon 24 October, 13:00 – 16:30 CEST
The role of data policy in times of crisis
Data policy is required for ensuring smooth interdisciplinary collaboration in disaster or disruptive situations that threaten lives and the public wellbeing. This workshop will explore the important role of data policy in relation to crisis situations and the importance of developing proactive data policy to generate effective, evidence-based understandings that can provide for responses and solutions to complex global challenges. Through a series of expert presentations and discussions, we aim to provide the groundwork for a multi-disciplinary approach to developing data policy for crisis situations.
WorldFAIR Workshop: Tue 25 October, 12:00 – 15:30 CEST
FAIR Implementation Profiles in WorldFAIR: what have we learnt?
The WorldFAIR project is exploring FAIR Implementation Profiles (FIPs) with 11 domain and cross-domain case studies.  In this workshop we will reflect on the experience and explore our findings. What have we learnt from the process? Has using FIPs helped us describe practices around FAIR in the case studies? Has it helped identify any gaps or areas which would benefit from further attention? Will the outcomes of the FIPs assist the project in the development of a Cross-Domain Interoperability Framework and recommendations for more domain-sensitive FAIR assessment? Has the process identified ways in which the FIPs methodology and the tools around it can be improved?
FAIRConnect Demo & Discussion: Tue 25 October, 16:00 – 18:00 CEST
FAIR Connect is a new initiative, an Open Access publishing platform for the development and dissemination of good practices for professional FAIR-Data stewardship. A collaboration platform for professional, practising data stewards, where authoritative descriptions of FAIR Enabling Resources (FERs) like FAIR Implementation Profiles (FIPs), metadata schema, vocabularies and ontologies, and data stewardship plan templates, can be published, described, peer-reviewed, and made reusable. Demonstration of the channel  is planned as part of the FAIR Convergence Symposium, followed by a discussion with the attendees of this session. 
The publishing platform will be hosted by IOS Press, and is being developed and launched in partnership with the GO FAIR Foundation. The peer review will be conducted by community members under the auspices of GO FAIR and potentially also CODATA.
ENVRI-FAIR Session: Wed 26 October, 09:00 – 11:00 CEST
Catalysing Convergence in ENVRI-FAIR using FIPs
In 2019, as part of its FAIR assessment activity, ENVRI-FAIR collaborated with GO FAIR to develop the FAIR Implementation Profile (FIP) approach to technology landscaping and FAIRness level improvement of data and services. Since 2019, the FIP approach has been used for ENVRI FAIR assessments annually. This session will explore the limitations and opportunities of the FIP approach, focusing on its importance in the promotion of FAIR awareness and as a decision support service for the community. We will describe how the FAIR assessment exercises have impacted the ENVRI implementation plans and how this can lead to practical FAIR convergence. Lastly, the potential role of the FIP in FAIR Digital Objects (FDOs) will be explored, first as metadata for the FDO, and then as a catalyst for driving convergence on the use of FDOs by existing infrastructures.
The FAIR Convergence Symposium will also feature a number of 'Wheel Meetings'. These are interactive workshops in which a FAIR Enabling Resource (FER) is presented and discussed. The name comes from the idea that the FERs under discussion *may* be Wheels that don't need to be reinvented. The topics to be addressed during the FAIR Convergence Symposium will be announced shortly and registration for these events opened at that point.