CODATA, the Committee on Data of the International Science Council, published today its 20 Year Review of GBIF, making comprehensive recommendations to maintain GBIF's relevance and standing.


CODATA was commissioned by the GBIF Governing Board to to carry out an independent review, 20 years after a working group of the Organization for Economic Cooperation and Development (OECD) recommended the creation of a global biodiversity information facility in 1999.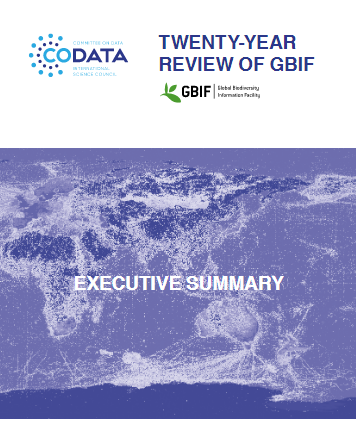 The resulting report published by CODATA, Twenty-Year Review of GBIF, follows a year of research, including interviews with more than 100 experts worldwide from various parts of the GBIF network and wider biodiversity information community.
It is the most comprehensive review of GBIF's activities in more than a decade and offers a series of recommendations that aim to build on its achievements to date while addressing a range of challenges to secure the network's future.
CODATA Twenty-Year Review of GBIF https://doi.org/10.35035/ctzm-hz97
The Review comprises and EXECUTIVE SUMMARY and the detailed FULL REPORT.
In its summary of conclusions, the review calls GBIF "the most comprehensive, openly available, application-agnostic (most unbiased), easiest-to-use, and modern access point to known digital species occurrence data."
"Consequently, as a global, distributed platform, GBIF is viewed widely as being a major success and a great improvement over alternative solutions," the report concludes. "This relates equally to the data it provides and to its capacity building activities."
The report cites GBIF's foundational principles of functioning as a distributed organization with a dependable funding structure as contributing factors towards its success to date.
Nevertheless, the review identifies major challenges lying ahead for GBIF and suggests that proceeding as before may not be an option for the network's continued success. The challenges are grouped into four overarching areas:
Data and technologies, including fitness for purpose, transparency and completeness of data, as well as addressing the increasing quantity and importance of non-traditional biodiversity data sources such as remote sensing, genomic analysis, other automated observations and contributions by citizens
GBIF's organization and community, including gaps in participation from some global regions, especially Asia, and the functioning of the network of national and thematic nodes
The domain of funding, noting the challenges of maintaining sufficient funds to cover both the core global activities of GBIF and the staffing of national nodes
Management of expectations, addressing the risk that stakeholders may have unrealistic expectations of what GBIF is able to achieve given the level of resources and effort required.
The review makes 27 separate recommendations aimed at addressing these challenges, divided into general, short-term and long-term groupings. These recommendations are listed in the Executive Summary.
Response from GBIF
In a message to the Governing Board, GBIF Chair Tanya Abrahamse welcomed the Review, thanking the CODATA team for a thorough effort that will help GBIF charting the way ahead. "In general CODATA is very positive about the way in which GBIF has navigated a complex landscape over the years, has grown to be the 'go-to' source of biodiversity data, and is good value for money for our funders. This success should be pleasing to us all," Abrahamse wrote. "CODATA also outlines serious challenges and great opportunities we need to seize as a community over the next decade, if we are to meet the demand for biodiversity information and to maintain relevance as a global infrastructure."
The GBIF Executive Secretary, Joe Miller, added that the challenges and opportunities highlighted in the review had been thrown into sharp relief by the current COVID-19 pandemic. "More than ever, GBIF needs to demonstrate relevance through a robust value proposition," Miller said. "We are able to show that data mobilized through GBIF on vectors and hosts of zoonotic diseases play a critical role in supporting research on human health risk. The CODATA review challenges us to become better advocates of our data infrastructure, and its contribution to evidence-based decision making."
See more on the GBIF website: https://www.gbif.org/news/1QfpUlGByxjqBktiYAfyIK/twenty-years-of-gbif-independent-review-charts-successes-and-challenges