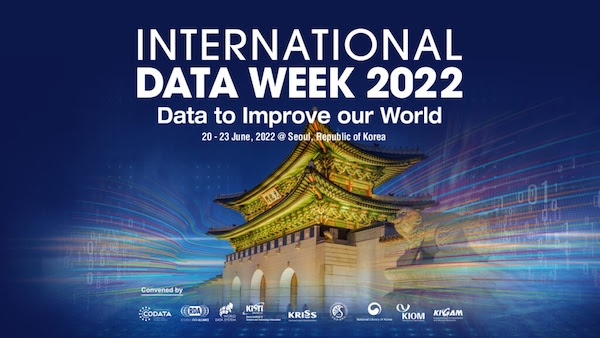 We invite abstracts for presentations and posters at International Data Week's SciDataCon 2022: Data to Improve our World. The deadline for proposals is 
23:59 UTC on Monday 25 April
2022
.  Submit your paper or poster proposal at 
https://www.scidatacon.org/IDW-2022/submit/
.
We particularly look forward to welcoming proposals from those working in Korea and / or on topics relevant to research data in the Korean context.
About SciDataCon 2022 and International Data Week 2022
International Data Week 2022 comprises two main events: the 19th Research Data Alliance Plenary, and SciDataCon 2022.  SciDataCon is a conference for peer-reviewed research and practice presentations, which covers all aspects of the role of data in research, society and policy.  As well as the core themes of data science and data stewardship, Open Science, and FAIR data and services, SciDataCon shares high-level themes with International Data Week.
SciDataCon 2022: High-level themes
The overarching theme of International Data Week and SciDataCon 2022 is Data to Improve our World.  In our post-pandemic future, humanity has an opportunity and obligation to address major challenges, including climate change, sustainable development, and disaster risk reduction. The digital revolution and the 'Fourth Industrial Revolution', the methods and practices of Open Science, and of FAIR data and services, give humanity the tools to do so. Embracing these possibilities requires engagement with society, international collaboration, rigorous research methods, and good practice in data science and data stewardship. The theme Data to Improve our World explores the nexus of these issues.
The high-level themes of IDW 2022 and SciDataCon include:
Data to Improve our World: The role of data to address global challenges
The State of Open Science Globally
Research Transparency, Accountability, and Reproducibility
Data, Research and Industry: The Interface between Data-intensive Research and Innovation
Science and Society: Engagement and participation
Empowering and Enabling Society: Data Science and Stewardship Education and Data Literacy
Presentations and posters addressing these themes are particularly welcome.
SciDataCon 2022: Themes
Proposals addressing any of the core, persistent themes of data and research typically addressed in SciDataCon are in scope.  Further detail and examples of topics are given below.
Data and Research: Data issues in relation to major research questions. This can include, for example, the availability, findability, accessibility, interoperability, and reusability of data in different fields of research; the challenges of combining and integrating data; and the challenges of effective analysis. The discussion of such data issues should relate concretely and directly to specific research questions.
Data Science and Data Analysis: Frontier scientific, technical, and epistemological challenges associated with data in research. Topics relating to data science and data analysis in particular research domains, or across domains.
Data Stewardship: Advances in sustainable, long-term data stewardship. This could include good practice, organisational and institutional aspects, and topics related to the FAIR, TRUST, and CARE Principles.
Policy and Practice of Data in Research: Data policies and practices, as well as the role of data in scholarly communications. Data policy and practices can include their development and harmonisation, in addition to issues around legal interoperability, rights management and privacy; the value and sustainability of research data infrastructure; and data publication, metrics, credit, and attribution.
Data and Education: Educational and training responses to the digital revolution. This can include mobilising capacity in areas such as data science and data stewardship; addressing needs and gaps in data skills, especially for the modern workforce; as well as formal education and curricula development to increase data literacy.
Data, Society, Ethics, and Politics: The broader dimensions of data and data-driven research in relation to society. This can include any issues concerning the social, legal, and ethical dimensions of data and research; for example, data sovereignty, the Digital Divide, data openness and availability, and digital empowerment.
Open Data, Innovation, Industry and Development: The interactions among industry, innovation, and data. This could include collaborations and partnerships with the private sector around any of the topics already mentioned above, and especially concerning data-driven innovation and development.
Please note that the simple presentation of research results is not in scope. The primary focus should always be on the data issues in different fields of research.
Submitting an abstract: presentations and posters
If you have not already done so, you will need to create a SciDataCon account <
https://www.scidatacon.org/author/signup/
>. Please note that creating such an account is not the same as registering for the conference.
Presentation abstracts must be submitted to the 'Conference Abstracts' category. Click [Submit abstract].  In the submission form, you should select the [General Presentation Submissions] 'session'.
Abstracts will be peer reviewed for individual quality and, if accepted, will be assigned to an accepted session or grouped into thematic sessions by the SciDataCon Programme Committee.  Accepted abstracts will be available from the conference website and will form a persistent collection, so please consider the following recommendations carefully:
Please submit your proposal of a length appropriate to the intervention. For example, we recommend that the proposal for a research paper should be 600-900 words and for a practice paper 300-600 words.  These are guides and please use your judgement.  We strongly discourage proposals of more than 900 words.
The proposal should clearly specify the core idea, the context of the research or practice, and the audience to whom it is relevant.  Insufficiently developed proposals will not be selected. 
Poster abstracts must be submitted to the Conference Posters category.  Click [Submit poster abstract].  In the submission form, you should select the [General Poster Submissions] 'session'.
Posters will appear in dedicated virtual and in-person poster sessions.  Posters can often be a more effective way of communicating key technical features of a paper and providing a visual summary that really engages the viewer.  For a Poster Abstract we suggest 300-600 words and certainly no more than 900 words in length.
Next steps and timescales
Session proposals have already been submitted and selected sessions will be published in the preliminary programme on 21 March 2022.
We encourage you to submit your presentation or poster abstract as soon as possible.  If selected, presentations submitted before 21 March will be organised into thematic sessions by the SciDataCon Programme Committee as appropriate.
Presentations proposed after 21 March can be submitted directly to an organised session if sessions organisers have allowed room for open submissions; or can continue to be submitted to the general presentation abstracts category.
Selected presentations will be notified no later than 16 May 2022, when we will also publish the final programme.