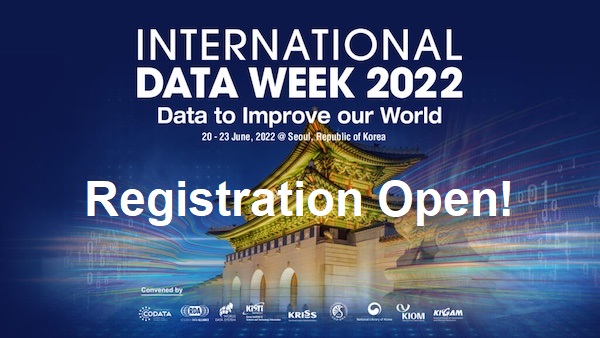 International Data Week 2022, hosted by the Republic of Korea, is accepting both virtual and onsite registration. The early bird fee was extended till 31 May.
See detailed information about ticketing and fees. The international credit card payment gateway is now fully operational and accepts card payments from all locations. Should you still experience issues while processing your registration, contact registrations@internationaldataweek.org at once. 
Those wishing to attend will need first to create an account at idw2022.org. Once an account is made, you can continue to register to attend in person or virtually. If you have already registered to attend virtually, but now would like to attend in person, you can upgrade that initial registration, by logging in to your previously created account at idw2022.org. 
Furthermore, preferential hotel rates and special booking conditions are available to all IDW 2022 attendees wishing to join us in Seoul in person. 
Up to 80 rooms are available for international delegates on a first-come first-served basis. The promo code to take advantage of discounted hotel rates is included in the registration confirmation email. More details about the hotels can be found at https://idw2022.org/bbs/content.php?co_id=Accommodation_en&lang=English.   
Travel restrictions were recently modified by the Korean Government and now allow fully vaccinated attendees to visit with no mandatory quarantine period. Information about Visa, Travel & Safety can be consulted at: https://idw2022.org/bbs/content.php?co_id=Visa_TravelSafety_en&lang=English 
We hope to see you at IDW 2022 in Seoul or virtually!
IDW 2022 Organising Committee