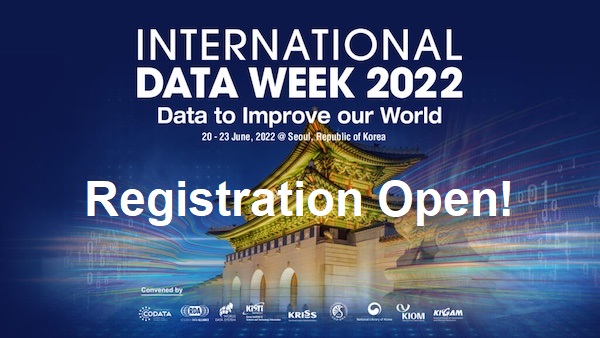 The organising committee for International Data Week 2022 is excited to announce a variety of travel destinations for those planning an extended stay in Seoul during International Data Week. There are several destinations within minutes of the conference venue, and all are conveniently located in downtown Seoul. Listed below is a selection of attractions and destinations all within a reasonable distance of the venue.
Changdeokgung Palace tour
The War Memorial of Korea
The National Museum of Korea
Bukhansan National Park
Myeongdong Shopping Street
For first-time visitors, there is no better way to discover the city than to spend all day hopping on and hopping off the Seoul City Tour Bus. A circular route connecting Seoul's top sightseeing destinations can be easily accessible for the price of just one ticket.
Additionally, two tour packages have been arranged for IDW attendees free of charge for up to 25 participants per tour including lunch and bus transportation:
Tour A (09:00-16:00 24 June): Visit of National Library of Korea  > Lunch > Coex Aquarium
This excursion will offer a tour of the National Library which stores over 10 million volumes, including foreign books and some of the National Treasures of South Korea. You will stop for a lunch break. The tour will end in one of South Korea's largest Aquariums with different species of aquatic life and fish on display.
Tour B (10:00-18:00 24 June): Visit of Sungkyunkwan University > Lunch > DMZ (Korean Demilitarized Zone)
Sungkyunkwan University is a private research university in South Korea, where a memorable tour will be arranged. A break for lunch will be followed by a short drive to the Korean Demilitarized Zone. It is a border barrier that divides South Korea from North Korea. The DMZ is 250km long and was put in place following the end of the Korean War (1950-1953).
A third tour option, although not included in IDW registration, includes a whole day of sightseeing including meals and transportation on 25 June, again with a maximum of 25 participants and will cost between $80-$100 USD.
09:00-18:00: Bukhan Mountain. Nat'l Park – Traditional Village – Lunch – Palace – Traditional Market – Gangnam – dinner
Bukhan Mountain is the northernmost mountain in Seoul located in Bukhansan National Park. There are 100 Buddhist temples and a 2,000 years old fortress combining a mixture of beautiful nature and rich history. You will have an opportunity to explore the Korean traditional village, visit one of the most famous palaces and discover treasures of Gangnam District – the third largest district in Seoul.
For more information on traveling in Seoul, click here.
To register for International Data Week 2022, click here.
For more information and to register for a tour, email idw2022tours@gmail.com.