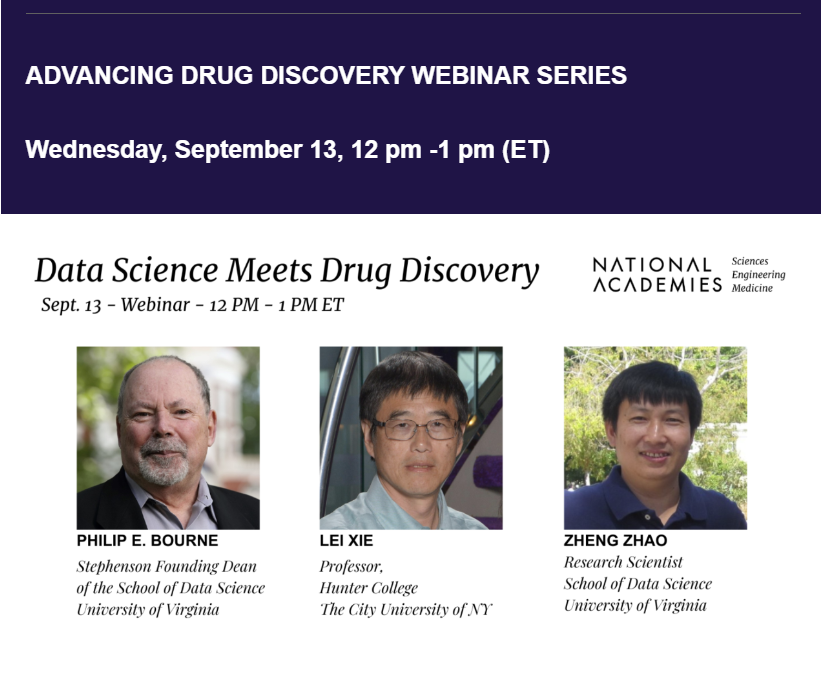 DATE: Sep 13, 2023 (12:00PM – 1:00PM ET)
As part of Advancing Drug Discovery: A Webinar Series of the National Academies of Sciences, Engineering and Medicine, a session on Data Science Meets Drug Discovery will be held on Wednesday, September 13th, 2023 at noon (EDT). The 60-minute session will consist of a panel of three experts from the University of Virginia and Hunter College.
The science of data is perturbing how we think about and conduct science at the same time as it changes our daily lives. Our lab(s) have embraced this change, the so called fourth paradigm, and applied the data, tools and thinking to early-stage drug discovery. While molecular structure remains central, we will describe our work in systems pharmacology and most recently in the application of AI to explore the dark genome.
Speakers will include Dr. Philip Bourne, University of Virginia; Dr. Lei Xie, Hunter College; and Dr. Zheng Zao, University of Virginia.
A collaboration between the U.S. National Committees on: Crystallography, Chemistry, Pure and Applied Chemistry, CODATA & the Board on Chemical Sciences and Technology
This webinar series is sponsored by Thermo-Fisher, Abbvie, Schrödinger, and Oakridge National Laboratory.
Meeting Materials