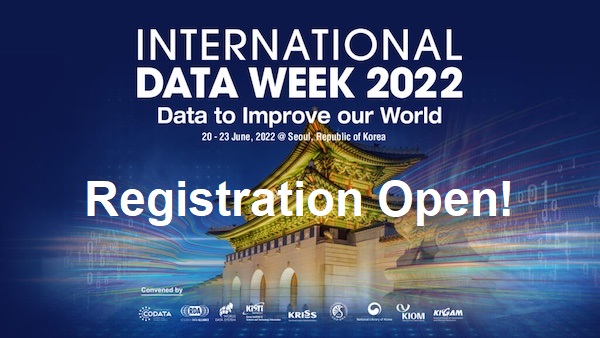 International Data Week 2022, hosted by the Republic of Korea on 20+23 June, now accepts onsite attendance registration. Those wishing to attend will need first to create an account on IDW2022.org. Once an account is made, you can continue to register to attend in person or virtually. If you have already registered to attend virtually, but now would like to attend in person, you can upgrade that initial registration. In order to switch to in-person attendance, login back into your account and check your past purchases on 'My Page'.
Please note that the early bird fees are available until 20 May. Any requests for cancellation will need to be made no later than 7 days prior to the conference to receive a full refund. Cancellations must be submitted in writing and sent via email to registrations@internationaldataweek.org
Travel restrictions were recently modified by the Korean Government and now allow fully vaccinated attendees to visit with no mandatory quarantine period. Quarantine exemption will be available for those who have completed their third dose of the COVID-19 vaccine or received two doses (one dose for Janssen) at least 14 days prior but within 180 days.
Overseas visitors must enter their vaccine records to Q-CODE prior to arriving in Korea and scan the provided QR code upon immigration. Q-CODE will require personal information (passport number), entry information (departure country, airline, address in Korea, phone number), and vaccine records.
The Q-CODE website: https://cov19ent.kdca.go.kr/
For more information on travel restrictions and visa requirements, please visit: www.visitkorea.or.kr
To complete onsite registration for IDW, please visit https://idw2022.org/.
Check the initial programme for the event and the plenary speakers/panelists information.