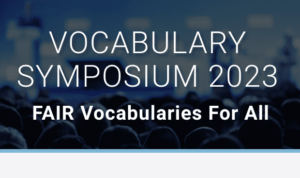 Submit an abstract: 
deadline 6 September
When: 14-15 November, 2023
Where: Onsite and online.  The in-person event will be held at ANU Research School of Social Sciences (RSSS).  146 Ellery Crescent, Acton, ACT 2601
Registration: Register here now!
Led by: ARDC, in partnership with ADA, AHRA, APPF, AURIN, AuScope, AusTraits, CODATA, IMOS, LDaCA, and TERN.
Following on from the success of the 2022 Vocabulary Symposium, the ARDC invites you to the 2023 Vocabulary Symposium on November 14 and 15, 2023.  A two day hybrid event bringing together people from domains across disciplines spanning research, government and industry, including those from the ARDC  Thematic Research Data Commons.  The aim is to communicate and promote approaches to using, developing, publishing, and maintaining vocabularies. The Symposium will cover Australian and international initiatives that demonstrate the impact and value of FAIR vocabularies for maximising the re-use value of data within and across domains.
A call for presentations is open until 5pm, Wednesday September 6 AEST.   You are invited to submit an abstract on approaches to using, developing, publishing, and maintaining vocabularies.
Anyone with an interest in vocabularies is welcome to participate.  Including informatics people, researchers, data managers, infrastructure providers, vocabulary publishers, librarians and policy developers across research, government and industry. The event will be of interest to local and international participants.
The Symposium is free to attend, either in-person or online.  Attendees must register.  There is no financial charge for registration.  Registrations will open on Monday, July 17 AEST.