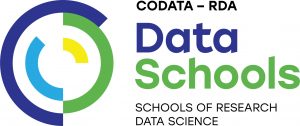 The deadline is approaching for this year's Summer School 2023 and Advanced Workshops, hosted by the ICTP, Trieste, Italy.
The CODATA-RDA Schools of Research Data Science invite applications for the following activities:
Summer School 2023, 31 July-11 August 2023
The Summer School builds competence in data analysis and security for participants from all disciplines and/ or backgrounds from sciences to humanities. Topics to be covered include principles and practice of research data management, authorship in the 21st century, data curation, data security, Open Science, visualization, machine learning and artificial neural networks.
Full details and applications here.  Deadline 6th June
Advanced Workshops, 14-18 August 2023
Individuals with a background in Extreme sources of data, IoT/Big-Data Analytics and Compute Infrastructure can also apply for the Advanced Workshops running immediately after the Summer School.Full details and applications here.  Deadline 6th June
For both events, a limited number of grants are available to support the attendance of selected participants from developing countries. There is no registration fee.