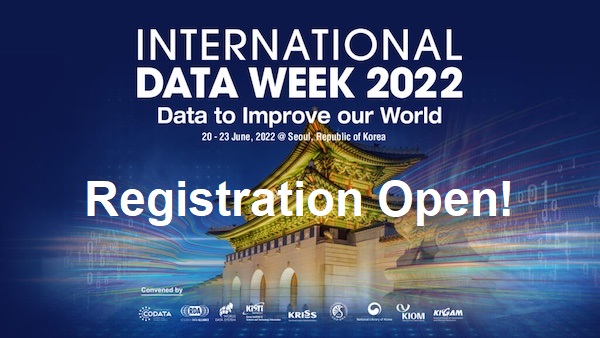 Registration is now open for International Data Week 2022 (IDW 2022) taking place on 20-23 June 2022 in Seoul, South Korea. The conference will be held as a hybrid event, in-person and virtually. Associated events will take place in the period 18-26 June 2022.
Travel restrictions were recently modified by the Korean Government and now allow fully vaccinated attendees to visit with no mandatory quarantine period. Quarantine exemption will be available for those who have completed their third dose of the COVID-19 vaccine or received two doses (one dose for Janssen) at least 14 days prior but within 180 days.
Overseas visitors must enter their vaccine records to Q-CODE website prior to arriving in Korea and scan the provided QR code upon immigration. Q-CODE will require personal information (passport number), entry information (departure country, airline, address in Korea, phone number), and vaccine records.
For more information on travel restrictions and visa requirements, please visit: www.visitkorea.or.kr
Those wishing to attend will need first to create an account on IDW2022.org. Once an account is made, you can continue to register to attend in person or virtually. If you have already registered to attend virtually, but now would like to attend in person, you can upgrade that initial registration. In order to switch to in-person attendance, login back into your account and check your past purchases on 'My Page'.
Take advantage of the early bird pricing by registering before 20 May. Reduced pricing is also available for students and attendees originating from and who are also based in low and middle income countries.
Detailed ticket information: https://idw2022.org/bbs/content.php?co_id=ticket_info_en&lang=English
This landmark event will bring together data scientists, researchers, industry leaders, entrepreneurs, policymakers, and data stewards from disciplines across the globe to explore how best to exploit the data revolution to improve science and society through data-driven discovery and innovation. IDW 2022 combines the 18th RDA Plenary Meeting, the biannual meeting of this international member organization working to develop and support global infrastructure facilitating data sharing and reuse, and SciDataCon 2021, the scientific conference addressing the frontiers of data in research organised by CODATA and WDS.
The theme chosen for this IDW edition is DATA TO IMPROVE OUR WORLD. Check the initial programme for the event and the plenary speakers/panelists information.
Don't wait and register soon! We look forward to see you in Seoul in June.
The IDW 2022 organisers, RDA, CODATA and WDS and the local hosts Korea Institute of Science and Technology Information (KISTI), committed by the Ministry of Science and ICT, Seoul Metropolitan Government, National Library of Korea, and National Assembly Library, with the support of the Korea Research Institute of Standards and Science (KRISS), Sungkyunkwan University (SKKU), Korea Institute of Oriental Medicine and the Korea Institute of Geoscience and Mineral Resources.