Thursday 24 March at 23:30 UTC (12:30 NZST)
 
Register: https://event.webinarjam.com/register/41/xq23msmz
While research communities are trying to better understand complex, compounding and cascading disasters, the Hunga Tonga-Hunga Ha'apai eruption and tsunami in January 2022 devastated Tonga's emergency management system.
Natural hazards often occur simultaneously or successively, resulting in complex, compounding and cascading impacts that interact.
Climate change may increase both compound and cascading hazards in the future – knowledge on how these impacts interface is crucial for reducing disaster risk.
Tonkin + Taylor in partnership with Integrated Research on Disaster Risk (IRDR), Committee on Data (CODATA) of the International Science Council (ISC) bring together experts to share:
• A forensic assessment of Hunga Tonga-Hunga Ha'apai eruption and tsunami in Tonga
• A cascading and compounding hazard assessment
• Volcanic eruption and tsunami scenarios
• Lessons learned and ways forward​​​​​​​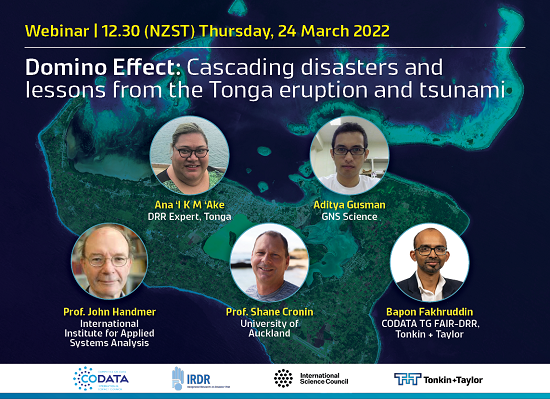 Speakers
Ana 'I K M 'Ake

DRR Expert, Tonga

Aditya Gusman

GNS Science

John Handmer

International Institute for Applied Systems Analysis

Shane Cronin

University of Auckland

Bapon Fakhruddin

CODATA TG FAIR-DRR and Tonkin + Taylor
To view the presentation slides, click 
here
.
The webinar recording can be found 
here
.
This is a 
link
 for anyone who would like to hear more about future Disaster Risk Reduction events.
And I have sent this 
link
 to register to receive the Disaster Risk Reduction and Open Data Newsletter to everyone who registered for the webinar.