Program Committee
Audrey Masizana (Botswana) – Co-Chair and Host
Dr Audrey Masizana is a Co-Chair of the VizAfrica 2019 Botswana Visualization Symposium. She is a Senior Lecturer and the immediate Head of Department of Computer Science at the University of Botswana. She holds BSc (Hons) Mathematics Modelling and Computing (1994) Kingston University UK, Post Graduate Diploma in Advanced Computing (1997) and MSc (Computer Science) (1998) from Oxford Brookes University UK and PhD in Computer Science from UMIST (2004) UK. Her teaching and research interests are in the science of Data, Decision and Intelligent Systems. She is currently passionate in the supervision of several post graduate students in application of Data Mining and Data Warehousing technologies to real life problems.
She is also involved in a number of research projects including Health Care and Indigenous Knowledge Systems. She has published over 40 articles as conference proceedings, journal papers and book chapters. Her professional service includes being an active member of organising and chairing academic conferences both local and international. Amongst these she chaired the African International Association of Science and Technology for Development (IASTED) in 2014 and 2016 and in the same year chaired the First International Conference in Cyber-security Conference and Information systems (ICICIS 2016), both hosted by the University of Botswana. Dr Masizana is also the founding and current Chair of the Computer Society of Botswana (CSB) and has been passionate in driving its course. She is also a member of African Open Science Platform (AOSP) Technical Advisory since 2017.
Joseph Muliaro WAFULA (Kenya) – Co-Chair
Prof Joseph Muliaro Wafula is the Co-Chair of VizAfrica 2019 Botswana Visualization Symposium. He is an elected Executive Member of CODATA International He is a member of the editorial board of the Data Science Journal. He chairs the National Industrial Training Authority (NITA)- Kenya sector training committee on transport, storage and communication.
Chair of the Innovative Open Data and Visualization (iODaV) Subtaskforce of the AFRICA-ai-JAPAN Project. Member of the committee of the United Nations SDGs on Agriculture and Climate Change Pillars of Kenya
He holds a BSc. Science (Hons) (Kenyatta University), MSc. Physics (University of Nairobi), M.Phil. Microelectronic Engineering and Semiconductor Physics (University of Cambridge –UK), Summer Doctoral Program (Berkman Centre for Internet & Society/Oxford Internet Institute's -Harvard University Law School), and PhD Information Technology (JKUAT).
He is a collaborator on Melinda and Gates Foundation award 2017 for developing a Blockchain-based Vaccines Supply Chain Management Application. He is a recipient of two IBM awards namely: the 2016 IBM Shared University Research Award on Open Data Cloud Project for JKUAT for building an open data platform for researchers in Africa, and the 2014 IBM MEA Award, for capacity building in Mobile Application development. He won the Kenya Open Data Champion Award of 2016. He is a member of the Global Challenges Research Fund/ ESRC Strategic Network on Digital Development: Leveraging Data Science and Digital Participatory Practice for Development Impact (2017-2018) and a Co-convinor of a network bringing together 29 participants (academics, NGOs and business partners) from 13 countries to develop joint cutting-edge research agendas.
He is a fellow of the Computer Society of Kenya and the Cambridge Commonwealth Society and has published book chapters, a book and research papers in peer reviewed international journals. Lead Author of the African Open Science Policy Framework- A guide for African States on Open Science Policies and Practices (in press). He is an Associate Professor in the Department of Computing at JKUAT and the founder Director of the ICT Centre of Excellence and Open Data (iCEOD).

Simon Hodson (France)
Simon Hodson has been Executive Director of CODATA since August 2013.
Simon is an expert on data policy issues and research data management. He has contributed to influential reports on Current Best Practice for Research Data Management Policies and to the Science International Accord on Open Data in a Big Data World.  Most recently he chaired the European Commission's Expert Group on FAIR Data which produced the report Turning FAIR into Reality https://doi.org/10.2777/1524.
As part of his CODATA role, Simon is closely involved in an ISC and CODATA initiative to improve the coordination of standards for data integration and interoperability for interdisciplinary research and in the coordination of the CODATA Data Policy Committee.
Additionally, Simon leads or participants in numerous projects, Working Groups and Steering Groups. Currently (May 2019), this includes the following roles:
Project Director, African Open Science Platform Project;
Member of the Scientific Advisory Board of CESSDA ERIC, the European data infrastructure for the social sciences.
In recent years, Simon has been a co-chair (2015-2018) of the GEO Data Sharing Working Group, to which CODATA has made a longterm contribution; co-chair of the OECD Global Science Forum and CODATA Project on Sustainable Business Models for Research Data Repositories; a member of the Board of Directors of the Dryad Data Repository (2012-2018), a not-for-profit initiative to make the data underlying scientific publications discoverable, freely reusable, and citable.
Simon has a strong research background, as well as considerable project and programme management experience: from 2009 to 2013, as Programme Manager, he led two successful phases of Jisc's innovative Managing Research Data programme in the UK.
Musakali Joseph Juma (Kenya)
Musakali Joseph Juma is currently lecturing in Moi University, Kenya, in the School of Information Sciences, Department of Publishing and Media Studies. He holds an M.Phil in Communication Studies, a B.Sc in Information Sciences and a Diploma in Graphic Design and Communication Studies.
His areas of teaching and research include Publishing, Journalism and Media, Communication, Graphic Design, Multimedia and Hypermedia, Knowledge Management and Open Access. He has presented papers in local and international conferences and published several papers in refereed journals in the above areas.
He is an accomplished Trainer of Trainers, having been a resource person in Web 2.0 for Development workshops locally and internationally, a Media Trainer accredited by the Media Council of Kenya, and also an accredited Knowledge Management consultant.
Koji Koyamada (Japan)
Prof. Koji Koyamada is currently a professor at the Academic Center for Computing and Media Studies, Kyoto University, Japan. His research interest includes modeling & simulation and visualization. He is a member of the Science Council of Japan, he is an associate member of the Science Council of Japan, a former president of the Visualization Society Japan, and a former president of Japan Society of Simulation Technology. He received the IEMT/IMC outstanding paper award in 1998, the VSJ contribution award in 2009 and the VSJ outstanding paper award in 2010. He received his B.S., M.S. and Ph.D. degrees in electronic engineering from Kyoto University, Japan in 1983, 1985 and 1994, respectively, and worked for IBM Japan from 1985 to 1998. From 1998 to 2001 he was an associate professor at the Iwate Prefectural University, Japan. From 2001 to 2003, he was an associate professor at Kyoto University, Japan
Alena RYBKINA (Russia)
Alena Rybkina is chief of the Innovation Technologies Sector of the Geophysical Center of the Russian Academy of Sciences (GC RAS). She is a young but internationally recognized specialist in implementation of modern information and visualization technologies in the scientific research and industrial domain. Important goals of her activity are data technological studies and development of spherical projection systems aimed at efficient analysis, demonstration and popularization in data research and management. Alena is actively involved in the operations of the CODATA Task Group "Earth and Space Science Data Interoperability". She co-authored the "Atlas of the Earth's Magnetic Field", which was one of the outstanding TG achievements in 2013. She is experienced in the organization of international and national events devoted to promotion of data science in Russia and other countries. In particular she was the principal organizer of the conferences "Electronic Geophysical Year: State of the Art and Results" in 2009, Pereslavl-Zalessky, "Artificial Intelligence in the Earth's Magnetic Field Study. INTERMAGNET Russian Segment" in 2011, Uglich and "Geophysical Observatories, Multifunctional GIS and Data Mining" in 2013, Kaluga. She takes part in numerous international projects, including those developed by the International Institution for Applied System Analysis (IIASA, Laxemburg, Austria). Alena is geologist currently working on the paleoenvironmental reconstructions and the Earth's magnetic field studies. She took part in geological expeditions in Russia, Ukraine, France and Italy for collecting paleomagnetic data and providing correlations between changes in magnetic data and global astronomical cycles. As a member of the CODATA Executive Committee she focuses on the organization and structuring the CODATA research projects and bring her experience in the geoscience data management. Special attention will be paid to the promotion of CODATA activities among data and research community to involve new members as well as young scientists.
LI Jianhui (China)

Dr. LI Jianhui is professor and director of scientific data at the Computer Network information Center (CNIC) of the Chinese Academy of Sciences (CAS). He is also the Secretary-General of the Chinese National Committee for CODATA.
Dr. LI was born in 1973, and obtained his Ph.D. degree from the Institute of Computing Technology of CAS in 2007. He has mainly engaged in the research of scientific data curation and sharing, data-intensive computing and applications, big data analysis and cloud service. For CAS, he leads and promotes the development of scientific databases sharing and he designed and led the development of scientific data infrastructure and its application environment. He was also the Co-PI of the National Data Sharing Network for Basic Research Project, which coordinated scientific research data sharing among universities, institutions and other research organizations.  He is leading the design and further development of the Scientific Data Cloud of CAS (http://www.csdb.cn) for data sharing, big data analysis and large scale data-Intensive scientific research, and leading a group to design and develop a research data repository and data journal for scientific data publication in China. Dr. LI has published more than 50 papers and applied for 8 patents and 1 national standard.
He has also organized a series of activities to help promoting and improving scientific and technical data management and use, and increasing the impact of CODATA in China, including the International CODATA Conference, Task Groups, Training Workshops, etc.
As an Executive Committee member, he will link international CODATA and CODATA-CHINA, increasing CODATA visibility in China and promote CODATA as the natural home for Chinese data scientists. He will help to enhance the capacity building in developing countries, and push forward scientific data citation and publication practices. 
Margaret Oloko (Kenya)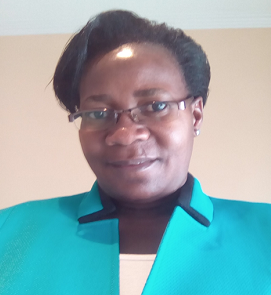 Margaret Oloko is an Associate Professor at the Department of Business Administration, School of Business, Jomo Kenyatta University of Agriculture and Technology (JKUAT). She has over fifteen years teaching experience and has an orientation towards Marketing, Strategic Management and Global/International Business Strategy. She is a member of IoDaV sub-taskforce under the Africa Ai Japan She is also an associate member of the Marketing Society of Kenya and Kenya Institute of Management.
Benjamin Aribisala
Benjamin Aribisala is a Professor of Computer Science in Lagos State University and the Dean of Faculty of Science. He is also the Chairman of ICT Advisory Board for Lagos State University. He is a member of the Governing Council of Lagos State University.
Professor Aribisala obtained his PhD degree in Computer Science from the University of Birmingham, United Kingdom. He has a BSc degree in Mathematics from University of Ado and Master's degree in Computer Science from Federal University of Technology.
The research career and experience of Professor Aribisala covers United Kingdom and Nigeria. He has worked in the University of Edinburgh, Newcastle University and University of Birmingham, all in the United Kingdom before joining Lagos State University.  He combines his expertise in Computer Science, Mathematics and Medical Image Analysis to conduct clinical research. His current research interests span the fields of medical image analysis, computational neuroscience, computer vision, artificial intelligence, computer graphics, machine learning, magnetic resonance imaging and brain imaging. His focuses on developing methodology for processing and analysis of brain magnetic resonance images with the aim of helping clinicians with early and improved diagnosis of neuropsychological conditions.
He has over 90 scientific articles and he has given presentations to both local and international audience all over the world, ranging from Nigeria to USA, China, Canada, Austria, Germany, Portugal and United Kingdom. He reviews for many journals in the UK and America e.g. Nature Neuroscience. He is the Editor in Chief of the Journal of Research and Review in Science.
Professor Aribisala has won many awards, for example the Young Investigators Award from Society for Brain Mapping and Therapeutics, Los Angeles USA in 2015. In 2017, he won the Best Paper Award at the SCI-GAIA European Organisation Conference, Pretoria, South Africa.  He is a member of the Technical Advisory Board for African Open Science Platform (AOSP). He is a member of the British Computer Society and the society for brain mapping and therapeutics.
Professor Aribisala has passion for research and derives pleasure in building new generation of Computer Scientists and raising leaders.
Xiaoru Yuan
Xiaoru Yuan is a tenured faculty member in the School of Electronics Engineering and Computer Science. He currently serves as the deputy vice director of National Engineering Laboratory on Big Data Analysis and Applications, and vice director of Key Laboratory of Machine Perception (MOE) at Peking University. He received the Ph.D. degree in computer science in 2006, from the University of Minnesota at Twin Cities and initiated the Peking University Visualization team since 2008 . His primary research interests are in the field of visualization and visual analytics. His co-authored work on high dynamic range volume visualization received Best Application Paper Award at the IEEE Visualization 2005 conference. He and his student team won awards over 10 times in IEEE VAST Challenges. He served on the program committees of IEEE VIS, EuroVis, and IEEE PacificVis. He was organization co-chair of IEEE PacificVis 2009, and poster chair of IEEE VIS 2015/2016 and paper chair of IEEE VIS 2017 and PacificVis 2015. He founded ChinaVis conference in 2014.  He is currently the chair of technical committee on visualization and visual analytics, in the China Society of Image and Graphics.
Michael Situma (Kenya)
Michael Situma is a Graphic Designer in the department of Moi University Press and possesses 15 years of work experience in journal & book publishing, design and printing industry. He holds a BSc in Media Science (Hons) (Moi University) and Diploma in Graphic Design and Communication Studies (The Kenya Polytechnic), now known as Technical University of Kenya.
Currently, he is an MSc researcher in the department of Publishing and Media Studies, School of Information Science, Moi University, Kenya, where he is also a part-time lecturer. He has presented papers in both local and international conferences of which some are published in print or in electronic formats. His research interests include; Graphic Design, Electronic Publishing, Open Access Publishing, Interactive Media, and Animation.
He is an accredited Media Trainer, with memberships of Media Council of Kenya, and of Kenya Publishers Association.
Yirsaw Ayalew
Prof. Yirsaw Ayalew is Head and Associate Professor at the Department of Computer Science, University of Botswana. He holds a PhD in Computer Science from the University of Klagenfurt, Austria with a specialization in Software Engineering. His research interests include software testing and debugging, end user software engineering, requirements engineering, software maintenance, software process improvement and mobile applications in healthcare service delivery.  More specifically, his work examines the development of techniques and tools to support end users in testing and debugging their programs; development of frameworks for assessing maintainability of systems; development of adaptable software process assessment and improvement frameworks for small software companies; and development of FAQ retrieval systems for healthcare service delivery.
He was member of organizing and programme committees of many international conferences such as 2nd African Conference on Software Engineering and Applied Computing, 32nd ACM/IEEE International Conference on Software Engineering- Software Engineering Education Track, IASTED International Conference on Software Engineering, and ACM/IEEE Symposium on Software Engineering in Africa. He is a member of ACM and the IBM Academic Initiative Program.
John Kinyuru
Dr. John Kinyuru is a Food and Nutrition specialist holding a PhD in Food Science and Nutrition with interests in sustainable food sources and processing at the School of Food and Nutrition Sciences in Jomo Kenyatta University of Agriculture and Technology, Nairobi, Kenya. He is the Co-chair of the Agriculture Task force of Committee on Open Data Science and Technology (CODATA) of International Council for Science (ICSU).
Becky Abraham
Ms. Becky Abraham is a Business Intelligence professional and a Project Manager with full cycle Business Intelligence implementation under her belt. Prior to her role as Regional Director at Pathways International , Becky gained experience as a Business Intelligence Business Analyst and Business intelligence Project Manager enabling her to effectively interact with business users to understand their pain points and translate them into technical implementations that once implemented help businesses leverage their data assets to gain a competitive edge. Becky has so far managed implementation Projects in BI in the Kenyan Market with Nation Media, Kenya Airways, World Vision International and most recently Mwalimu National Sacco.   Becky holds a Bachelor of Science in Information Technology from Jomo Kenyatta University of Agriculture and Technology alongside other professional certifications and is currently pursuing a Master of Science degree in Project Management.
Tshiamo Motshegwa
Dr Tshiamo Motshegwa is based at the Department of Computer Science, Faculty of Science at the University of Botswana. He leads the High Performance Computing and Data Science Research cluster, and has been Chair of the Southern African Development Community (SADC) Technical Experts Working Group developing and implementing the SADC Regional Cyber-infrastructure Framework.
He serves on the Botswana Government's Ministry of Tertiary Education, Science and Technology task team for the Botswana Space Science strategy overarching developments and opportunities in space sciences and technologies and serves in Ministry of Transport and Communications ICT Subsector High Level Consultative Committee. He is also a member of the Botswana SKA & African Very Long Base Interferometer Network (AVN) Projects technical Committee, and the Botswana Open Data Open Science (ODOS) committee.
Dr Motshegwa also participates in the SADC Intellectual Property Rights initiative and has engaged in Southern African Innovation Support Programme (SAIS) projects around developing and strengthening innovation ecosystems and Technology Transfer.
He served in International Steering Committee of the International Data Week Conference (IDW2018), SCIDATACon-IDW 2018 and International Conference on Internet, Cybersecurity and Information Systems (ICICIS2016, ICICIS2018), IST-Africa 2018, ISTAfrica 2019
Dr Motshegwa received a BEng (Hons) in Computer Engineering and a Ph.D. in Computer Science- Multiagent Systems and Distributed Systems from City, University Of London. He has had fellowships at British Energy Plc, at British Telecom's Adastral Park Research & Innovation Labs, BTexact Technologies in Ipswitch, UK and at the Intelligent Business Systems Group.
Zablon Akoko Mbero 
Zablon Akoko Mbero is a Senior Lecturer in the Department of Computer Science, University of Botswana. He currently holds a Master of Science (M.Sc.) from the University of Nairobi (Kenya) and a Bachelor of Science (B.Sc.) degree from Kenyatta University (Kenya) . He is a fellow member and Deputy Chair, Computer Society of Botswana. Mr. Mbero is the Main Contact and Coordinator of Cisco Networking Academy, Coordinator of SAP ERP Academy and he is also the Chair, Communications and Networks cluster within the Department of Computer Science. Mr. Mbero has been a reviewer (the InSITE) Mr. Mbero has been involved in community service by being a board member of various Government departments (DVET). His research interests include Mobile Ad Hoc Networks, Sensor Networks, Routing in Networks, Social Networks, Neural Networks, Machine Learning and artificial intelligence, E-learning in networks.