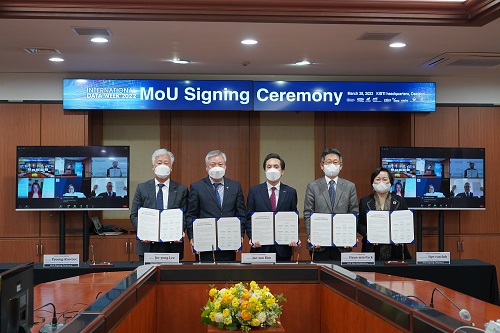 — The World's Largest Conference on research data to improve science and society through data-driven discovery and innovation–
In organizing the world's largest conference on research data to improve science and society through data-driven discovery and innovation, 'International Data Week 2022 (hereinafter referred to as IDW 2022)', the Korea Institute of Science and Technology Information (hereinafter referred to as KISTI) hosted the memorandum of understanding (MoU) signing ceremony at the KISTI Daejeon headquarters on March 28 with three international organisations supporting global research data sharing and interoperability and six domestic host institutions.
IDW 2022 is convened by the Committee on Data (CODATA) and the World Data System (WDS) of the International Science Council (ISC), and the Research Data Alliance (RDA). The event was scheduled to take place in November 2021 in Korea, but postponed due to the global pandemic. It is now taking place from June 18-23, 2022 at the Seoul Dragon City Hotel.
IDW 2022 provides the opportunity to discuss the development of a data innovation ecosystem promoting social contribution through new scientific discoveries, following the core theme of 'data to improve our world'. The event combines the '19th RDA Plenary Meeting', an international conference on data sharing and reuse, and 'SciDataCon 2022', the scientific conference addressing the frontiers of data in research organized by CODATA and WDS. More than 1,000 data scientists, researchers, industry leaders, entrepreneurs, policymakers, and data stewards from disciplines across the globe, including Korea, are expected to attend IDW 2022. It will be a hybrid event, allowing virtual, as well as in-person, attendance.
The signing ceremony highlighted the hosts of IDW 2022 and emphasized the importance of increased cooperation for research data sharing and utilization to build and vitalize the global research data ecosystem. From the ISC, CODATA Executive Director Simon Hodson, and WDS Executive Director Meredith Goins, participated online at the signing ceremony along with Secretary General Hilary Hanahoe of the RDA. From Korea, participants included KISTI President Jae-soo Kim of the hosting institution along with members of the other co-hosting institutions (President Pyeong-Koo Lee of the Korea Institute of Geoscience and Mineral Resources, President Jin-yong Lee of the Korea Institute of Oriental Medicine, President Hyun-min Park of the Korea Research Institute of Standards and Science, President Hye-ran Suh of the National Library of Korea, and President Dong-ryeol Shin of Sungkyunkwan University).
During the MoU ceremony, the President of KISTI Jae-soo Kim stated, "Hosting the IDW 2022 will improve awareness for domestic research data sharing and utilization, and expand open research data cooperation between the global data related organisations," and continued, "We hope to receive many interests and participation from research data experts both here and abroad."
Reference IDW2022 Official website: https://www.idw2022.org/