The CODATA TG on FAIR Data for Disaster Risk Research and Tonkin+Taylor have been awarded the GEO SDG Testimonial Award for work on Rapid Damage Mapping response in support of #SDG11 as part of GEO Week 2020.
Tonkin + Taylor (T+T) is New Zealand's leading environmental and engineering consultancy. T+T focuses on people, communities, cities and human settlements and creating sustainable future-proof infrastructure – while maintaining a care for the environment.
Through the collaborations and partnerships enabled by the the CODATA Task Group on FAIR Data for Disaster Risk Research, T+T has partnered with ChinaGEO CDDR, RADI, and IRDR to provide Rapid Damage Mapping (RDM) work in the Asia-Pacific region since 2016. Using LIDAR, satellite images, and other Earth observational data, RDM provides factual spatial information and is fundamental in aiding an efficient, effective disaster response and recovery. This information helps determine the most critical infrastructure to rebuild, ensuring that cities are safer and more resilient after disasters.
RDM has significant social, economic and environmental benefits. It saves lives by sending aid where it is most needed, saves money by reducing unnecessary aid response in less severe areas, and protects the environment by identifying and putting plans in place to fix any environmental threats.In relation to SDGs, RDM and disaster response helps with #1 (no poverty), #2 (zero hunger), #3 (good health and well-being), #6 (clean water and sanitation), and #7 (affordable and clean energy) by providing aid where it is most needed, ensuring that all people and communities affected by a disaster gain access to food, healthcare, water, and other important utilities as soon as possible.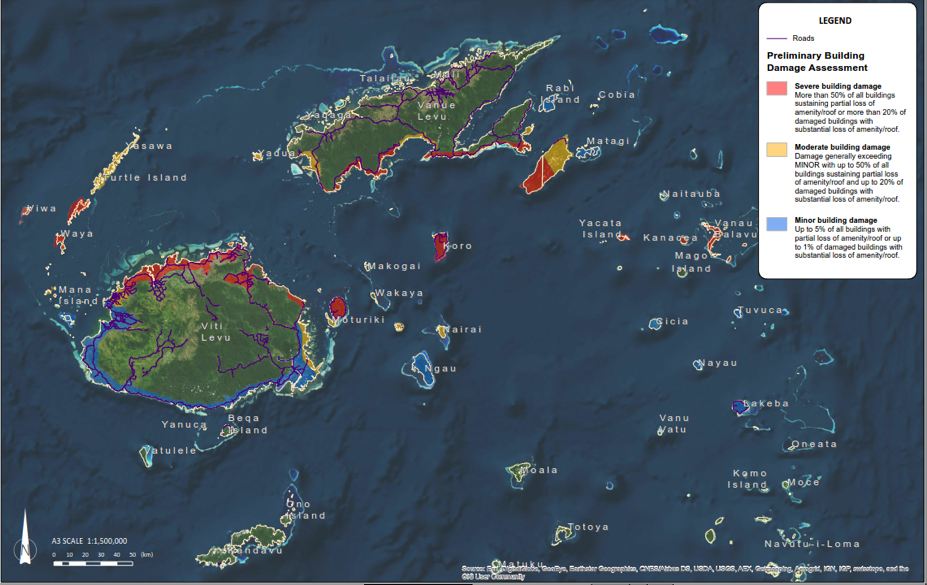 Speech Given to the Virtual Awards Ceremony
This speech was given on behalf of Bapon Fakhruddin and the Task Group to the Virtual Awards Ceremony, by Simon Hodson, CODATA Executive Director.

Announcing the winners of the 2020 Earth Observation for the Sustainable Development Goals Awards
Firstly, thank you to GEO for organising the GEO SDG 2020 Award ceremony during these uncertain times, and also I'd like to give recognition to the other award nominees as well.
The Rapid Damage Mapping tool is developed by Tonkin + Taylor International based in New Zealand. It gathers integrated initial damage mapping information within the first 24 to 72 hrs of a disaster.
In the wake of disaster, National Disaster Management Authorites/AID agencies require support within the first 24-72 hrs to integrate global, regional, national and local data to understand the extent of damage. The RDM tool has been of great use, with more than 7 RDM instances supported by the Task Group to the NDMO/Red Cross/UNOCHA within 24hrs to 48hrs time period to take immediate response in Asia and the Pacific.
Rapid Damage Mapping was applied in countries like New Zealand, Fiji, Indonesia and Mozambique. The Kaikoura Earthquake in New Zealand, Tropial Cyclone Winston in Fiji, Cyclone Gita in Tonga and Tropical Cyclones Idai and Kenneth in Mozambique has demonstrated enormous benefits in saving lives and efficient disaster response and provided significant lessons.
The interactive maps, geocoded photos and damage reports allowed government, engineers, scientists and other first responders to effectively triage their efforts specifically in Fiji and New Zealand. For example, our efforts provided valuable insight for first responders and NDMO able to identified remote islands damage situations to provide rapid responses in Fiji right after Cyclone Winston. In New Zealand, the rapid damage mapping provided into key vulnerabilities that evolved after the Kaikoura earthquake, and helped to identify more than 10,000 landslips which helped to develop strategies on disaster responses. For Palu earthquake and tsunami in Indonesia, we able to assist to provide quick estimation of affected people under earthquake, tsunami and liquefaction damage.
This has been a collaborative effort and I'd like to thank:
The Task Group of FAIR data for Disaster Risk Research of CODATA who helped lead the process
China-GEO, RADI and other organizations (e.g. DFAT Australia, MFAT New Zealand) for their support in integrating pre-existing set of satellite images, P3 Arial photographs and AI for bringing the full, mind-numbing extent of the hazard effects map into an effective response.
This system is a great resource for operational decision-making and rapid response activities.  The CODATA TG FAIR Data for DRR is continuously supporting such efforts in partnership with UNDRR, IRDR and other organizations.