Back to CODATA Botswana National Committee page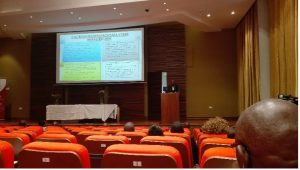 The Open Data Open Science (ODOS) Committee hosted an Open Data Open Science Workshop Feedback Session at the University of Botswana Conference Centre on 22nd March 2018 following the first-ever National ODOS stakeholder consultative workshop that was held 30th – 31st October in 2017.  The session engaged stakeholders and participants to provide feedback and stimulate further dialogue in mapping a way forward to the outcomes of the 2017 ODOS forum. The forum discussed thematic areas of Data Legislation, Governance & Policy, Coordinated Research Data Cyber-Infrastructure, Data Innovation & Data for Development and Data Awareness & Capacity Building and produced a SWOT analysis and key recommendations.
The forum was graced by the presence of the Deputy Permanent Secretary in the Ministry of Tertiary Education, Research Science and Technology (MoTe), Dr. K. Baipoledi; Director of DRST, Mrs Lesego Thamae; and the Chair of ODOS Committee Professor Julius Atlhopheng. Other stakeholders present were University of Botswana, BIH, BUAN, BOCRA, Statistics Botswana and private institutions.
On giving welcome remarks, background and objectives of the workshop, Professor Atlhopheng hastened to enlighten on Open Data Open Science – kickstarting dormant data readiness that exists in Botswana. He explained that Open Data means that the data must be accessible and interoperable while Open Science must involve stakeholders from the conception of an idea and that certain solutions must be shared for us to move together. With Open Data we can enable data-driven discoveries, technologies and Innovations through which Botswana can benefit from Data Security, Data stewardship and information towards sustainable development. Though we generate prodigious amounts of data on daily basis, there is an evident lack of coordination on the data between and across institutions necessitating an urgent need for a coordinated data approach to be on tune in enabling a data-driven knowledge base economy and knowledge society.
The ODOS Committee mandate revolves around data being a public good, a 'new currency' and a new revolution. The key thing in Botswana is to have a policy or legislation framework for coordination. The National ODOS Committee is working towards having an Advocacy plan to engage stakeholders, enhance networking so that the impact of data in Botswana is enhanced, produce a situational analysis of Open Data Open Science in Botswana and carry out a benchmarking exercise to review existing policies, implementation strategies and learn from global best practices. In 2015, the World Bank together with the Government of Botswana presented a report assessing the readiness of Botswana in implementing Open Data Open Science initiative to which the findings (executive summary of the world bank report) are that an Open Data programme could make a significant contribution to Botswana's economic and Innovation goals. It could also help improve the delivery of public services through making data more readily available to government decision makers and developing the skills they need to use it effectively.
When giving Government remarks, the Deputy Permanent Secretary of MoTe Dr. K. Baipoledi highlighted that the Government has realized the way stakeholders do data related tasks is haphazard and uncoordinated. He also pointed out that emerging digital technologies enable government to collect, manage, distribute data and perform sophisticated data analytics for improved service delivery. He acclaimed that we live in a big data world, yet poor access to data remains one of the bottlenecks to national developments. We observe poor data sharing across stakeholders such as ministries and private sector resulting in fragmented decision making hence national aspirations are not realized. There is need for adoption of trends and capacity building.
In addition, he mentioned that the ODOS feedback session is an important undertaking, signifying that data issues in Botswana are taken in a more systematic way to enhance the impact of data. He summarized data impact as essential for innovations, development, finance, enterprise, education, human wellbeing and even to measure the impact of our national obligations as espoused in NDP 11, Vision 2036 and the Sustainable Development Goals.  Open Data opens a plethora of opportunities to Botswana including linkages to existing regional and International partnerships. It enhances how we transform and improve services offered to the public. Data adoption is a true engine of transformation and making informed interventions. The world is moving to the reality of appreciating the evolution of big data and digital transformation. Data recognized as a new currency, Governments around the world are the most important players in data economy.  They are at the center of appreciating the value of data; they are the main data producers, main data consumers, they regulate and ultimately remain custodians of the country's data.  It is clear that good processes and supporting Infrastructures must be put in place so that data is exploited to its potential by many. Adopting data initiatives will facilitate coordination that will eliminate duplication of effort, and increase prevailing decision-making costs as well as usher in the much-needed benefits in our country. ODOS forms an important strategic direction for advancement of Science nationally. Open Data should not be a standalone issue but rather an enabler which integrates the various components of science for developmental agenda in which everyone must take personal and institutional responsibility to implement and achieve the Open Data Open Science recommendations.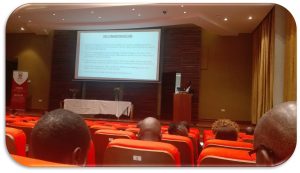 Dr. Motshegwa facilitating ODOS discussions
The ODOS Feedback session culminated in detailed stakeholder presentations on SWOT analysis outcomes in the thematic areas, sharing inputs and recommendations made by the stakeholders at the forerunner ODOS workshop, comments and questions on recommendations. Participants thoroughly engaged and discussed a way forward, allocating action items to actors (stakeholders), timeframes and resource implications on each recommendation. The stakeholder recommendations and action items exercise continues at various stakeholder institutions.