This is the seventh in the series of short statements from candidates in the coming CODATA Elections at the General Assembly to be held on 15-16 November, 2021.  Audrey Masizana is a candidate for the CODATA Executive Committee as an Ordinary Member. She was nominated by Botswana.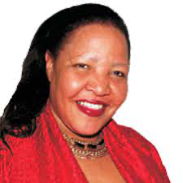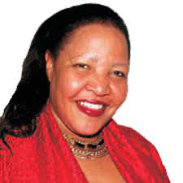 Audrey Masizana is an immediate Head of Department of Computer Science at the University of Botswana. She holds a PhD in Computer Science from UMIST (2004) UK, MSc (Computer Science) (1998), Post Graduate Diploma in Advanced Computing (1997) from Oxford Brookes University UK and BSc (Hon) Mathematics Modelling and Computing (1994)from Kingston University UK. Her professional certifications include  
IBM Data Science Practitioner – Instructor Certificate. January 2021

Enterprise Design Thinking Practitioner, December 2020 

ERP Train the Trainer Certificate, SAP University Alliances Issued Dec 2014 

SAP (ESEFA) Train the Trainer Certificate , University of Cape Town Issued Jan 2014

SAP University Alliances ERP4Schoool Foundation Certification, UCT, Cape Town, 24 July 2013
She has over the years served at national bodies such as the National Cyber Security Strategy Development Committee (2016) and its new Implementation Committee (2021). She is a strong advocate of the adoption of Open Data Open Science Policies and Instruments. She is serving as a Deputy Chair of the National Committee on Open Data Open Science established in 2017 which has inspired current developments such as establishment of National Research and Education Network (NREN). She is very active in professional societies nationally, being a Fellow of Botswana Academy of Sciences (FBAS) and the current Chair of Computer Society of Botswana where she forged collaborations with societies of similar mandates regionally and internationally such as the International Federation of Information Processing (IFIP). 
Audrey is passionate in interdisciplinary post graduate research around Scientific Application of Data for Intelligent Decision Making, for which she also conducts external examining for other universities. She is a seasoned publisher in conference and journal proceedings across the world for which she also serves in some of the editorial boards. She has made exceptional contributions to the promotion of science and technology by providing leadership in the establishment of fostered local and regional collaborative projects around Hi Performance Computing (HPC) & Data Science Research – covering the development and sharing of the compute and data research infrastructure, eHealth Research which engages Health Informatics, and Intelligent Systems Research which explores applications of Artificial Intelligence.
She has over the years gained enormous experience in spear heading academic networking platforms amongst chairing Local Organizing Committees of international conferences such as:
Visualization Technology Africa Conference in 2019, Gaborone, Botswana

2

nd

International Data Week in 2018, Gaborone Botswana

International Association of Science and Technology Africa (IASTED Africa Series)  Conference in 2014 and 2016, Gaborone Botswana

The

1

st

, 3

rd

International Conference on Cyber Security and Information Systems ICICIS, 2016 and 2018, Gaborone Botswana
Audrey is a very patriotic and well networked African citizen. Of relevance to CODATA mandate, she has served as a member of the African Technical Advisory Committee which formed part of the first committee that established the African Open Science Platform in 2017. The initiative provided her with an opportunity to contribute to the development of the Africa Open Science Framework designed for continental adoption. She is also one of the innovators of the VizAfrica Network which was established as a spinoff project of the VizAfrica Conference in 2019 which was organized in collaboration with CODATA. It is designed to be a networked body of knowledge and expertise that nurtures a continual conversation on issues around Data Visualization theory, policy, technology and practice in Africa. She is also currently instrumental in promotion and maintaining of CODATA collaborative engagements in Botswana and very passionate to continue playing this role for the consortia within the African landscape, thus contributing towards the expansion and strengthening of the organization's engagements beyond.