By Laura Molloy and Peter McQuilton
The terms4FAIRskills core team was delighted to welcome a group of keen annotators from across Europe to join in a hackathon on 11th and 15th December 2020.  Participants from FAIRsFAIR, FAIRsharing, ELIXIR, EOSC-Pillar, the Digital Curation Centre, DANS, CINES and CODATA worked actively with a range of training materials of their choice, and experimented with annotating these materials with terms from the current version of the terms4FAIRskills terminology.
The terms4FAIRskills project aims to create a formalised terminology that describes the competencies, skills and knowledge associated with making and keeping data FAIR.  When mature, this terminology will apply to a variety of use cases, including:
To assist with the creation and assessment of data stewardship curricula;
To facilitate the annotation, discovery and evaluation of FAIR-enabling materials (e.g. training) and resources;
To enable the formalisation of job descriptions and CVs/résumés with recognised, structured competencies.
The completed terminology will be of use to trainers who teach FAIR data skills, researchers who wish to identify skill gaps in their teams, and managers who need to recruit individuals to relevant roles.
Started as a volunteer, bottom-up effort, #terms4FAIRskills has recently received an EOSC co-creation grant to enable collaborative development of the terminology via a core team of ontology experts alongside a coordinating group. The grant also funds a series of hackathons to bring together representatives from the community of prospective users.
In the first virtual hackathon, with lively discussion throughout, we iteratively refined the terminology through the practical annotation of training materials from ELIXIR TeSS and the RDA/CODATA Summer Schools.  Thanks to this feedback, the core team will continue to review the terminology, add synonyms, refine the hierarchy and adapt the current model.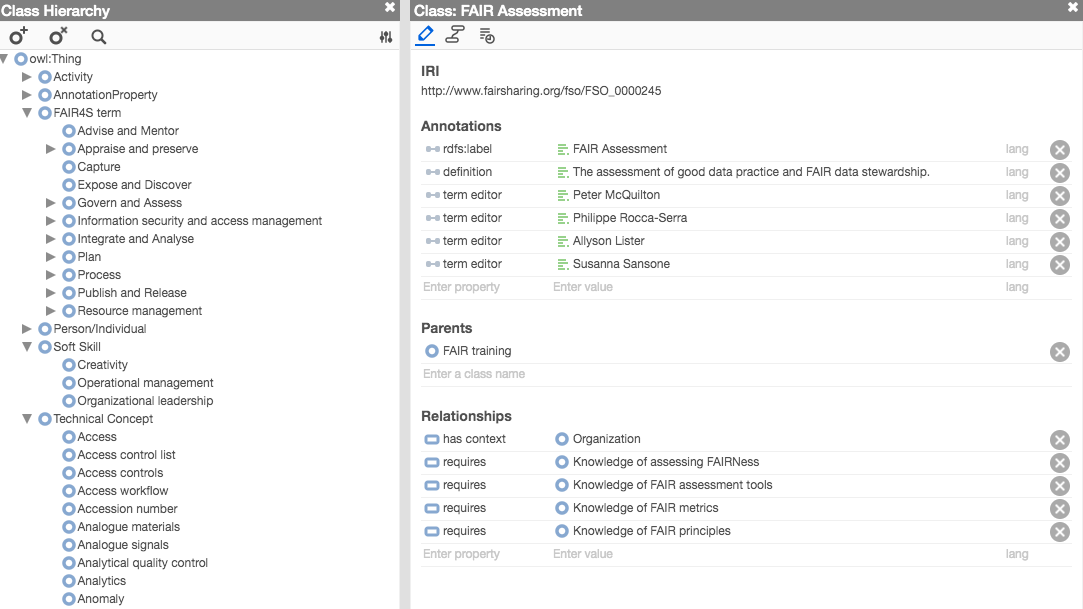 We will run a follow-on hackathon in early 2021, where we will once again test the model through practical annotation of real world training material.
For further information about the terminology, please see the terms4FAIRskills website, follow the #terms4FAIRskills hashtag on Twitter and/or email terms4FAIRskills@codata.org.
Core team
Peter McQuilton, FAIRsharing and University of Oxford
Yann Le Franc, e-Science Data Factory
Laura Molloy, CODATA
Allyson Lister, FAIRsharing and University of Oxford
December 2020 virtual hackathon attendees
Hugh Shanahan, RDA/CODATA Summer Schools
Celia van Gelder, ELIXIR / DTL
Victoria Dominguez del Angel, ELIXIR / INRA
Angus Whyte, FAIRsFAIR / DCC
Marjan Grootveld, FAIRsFAIR / DANS
Marie-Anne Maurel, FAIRsFAIR / CINES
Samuel Viscapi, FAIRsFAIR / CINES
Coordination group
Celia van Gelder (DTL/ELIXIR-NL, NL)
Simon Hodson (CODATA, FR)
Yann Le Franc (e-Science Data Factory, FR)
Peter McQuilton (FAIRsharing and University of Oxford, UK)
Susanna-Assunta Sansone (FAIRsharing and University of Oxford, UK)
Hugh Shanahan (Royal Holloway, UK)
Angus Whyte (DCC, UK)
Laura Molloy (CODATA, FR)