This is the seventh in the series of short statements from candidates in the forthcoming CODATA Elections. As an existing member of the CODATA Executive Committee, Alena Rybkina is applying for re-election as an Ordinary Member.  She was nominated by the Russian CODATA National Committee.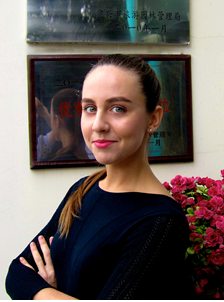 Alena Rybkina is chief of the Innovation Technologies Sector of the Geophysical Center of the Russian Academy of Sciences (GC RAS).  She is young but internationally recognized specialist in implementation of modern information and visualization technologies in scientific research and industrial domain. Important goals of her activity are data technological studies and development of spherical projection systems aimed at efficient analysis, demonstration and popularization in data research and management.
Alena is actively involved in the operations of the CODATA Task Group "Earth and Space Science Data Interoperability". She co-authored the "Atlas of the Earth's Magnetic Field", which was one of the outstanding TG achievements in 2013. She is experienced in the organization of international and national events co-organized by CODATA and devoted to promotion of data science in Russia and other countries. In particular she was the principal organizer of the conferences  "Electronic Geophysical Year: State of the Art and Results" in 2009, Pereslavl-Zalessky (http://egy-russia.gcras.ru/index_new_e.html), "Artificial Intelligence in the Earth's Magnetic Field Study. INTERMAGNET Russian Segment" in 2011, Uglich (http://uglich2011.gcras.ru/index_e.html), "Geophysical Observatories, Multifunctional GIS and Data Mining" in 2013, Kaluga (http://kaluga2013.gcras.ru/index_eng.html) and "Data Intensive System Analysis for Geohazard Studies" in 2016, Sochi (http://sochi2016.gcras.ru/).  She is currently leading the initiative related to the organization of Regional CODATA Eurasia conference, which will be held in September-October 2017.
As she is involved in a number of international projects, including those developed by the International Institution for Applied System Analysis (IIASA, Laxemburg, Austria), she aims to promote efficient global collaboration for improved knowledge, understanding of the earth system, disaster risk mitigation and sustainable development.
Alena is geologist currently working on the paleoenvironmental reconstructions and the Earth's magnetic field studies. She has taken part in geological expeditions in Russia, Ukraine, France and Italy for collecting paleomagnetic data and providing correlations between changes in magnetic data and global astronomical cycles.
As an active young researcher she will be a dynamic and effective member of the CODATA Executive Committee.  Alena's focus is on promoting CODATA activities in the data and research communities as well as the organization of CODATA events to involve new members as well as young scientists. As a specialist in data visualisation technologies she can also share her experience in modern technologies of data mining.