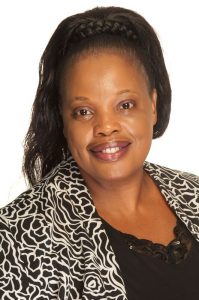 This is the fourth in the series of short statements from candidates in the forthcoming CODATA Elections at the General Assembly to be held on 9-10 November in Gaborone, Botswana, following International Data Week. Refiloe Mabaso is a candidate for the CODATA Executive Committee as an Ordinary Member.  She was nominated by South Africa.
Refiloe Mabaso is an accomplished senior business leader with over 15 years' experience that spans the full spectrum in both private and public sector. Areas of specialization include amongst others, Data Management, Information Management, Knowledge Management, Library Management, Records Management and Business Intelligence with a proven record of accomplishment in planning and leading comprehensive information and knowledge management strategies in support of business goals and objectives. Expertise in directing the formation of information and knowledge management tools and steering the execution of information and knowledge sharing programs. Demonstrated success driving growth in information and knowledge management through implementation of key projects. Experience in growing start-up organizations to leading business units and growing teams in large multi-national corporates. Recently have been nominated by the American Productivity and Quality Center (APQC) to participate ON Making It Stick Knowledge Management Research Project, to share and develop a case study on the successful practices to manage KM-related change and engage end users in KM tools, approaches, activities and work which will be published on APQC's Knowledge Base library.
Holds, among other qualifications a degree in Library and Information Studies – University of South Africa, Management Development Programme – University of South Africa, Postgraduate Certificate in Knowledge Management – University of Pretoria, Masters in Business Administration (MBA) – University of South Africa, International Women in Leadership Programme – Gordon Institute of Business Science (GIBS) and General Manager Programme –  Gordon Institute of Business Science (GIBS).
Currently working at Air Traffic and Navigation Services (ATNS), Senior Manager- Information and Knowledge Management leading a team of Specialists covering areas of Library Management, Records Management, Knowledge Management, Data Analyst, Business/Market Intelligence and Digital Enterprise Content Management.
Serving as a member of the South Africa CODATA Committee with the objective of promoting CODATA activities and goals in South Africa. Previously served as a member of CODATA Executive Committee. Currently serves as a deputy chairperson of the Knowledge Management South Africa, a society for knowledge management professionals who are passionate about moving their discipline forward in their organizations while investing in themselves. The society supports the research and development of knowledge management practices in both private and public sectors.