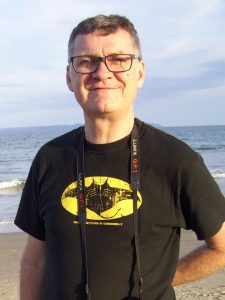 This is the second in the series of short statements from candidates in the forthcoming CODATA Elections at the General Assembly to be held on 9-10 November in Gaborone, Botswana, following International Data Week. Simon Cox is a candidate for the CODATA Executive Committee as an Ordinary Member.  He was nominated by Austraila
Simon Cox leads the Environmental Information Infrastructure team in CSIRO. With a background in geology and geophysics, he has been working on standards for publication and transfer of earth and environmental science data since the emergence of the world wide web. He has engaged with most areas of environmental science, including water resources, marine data, meteorology, soil, ecology and biodiversity, focusing particularly on cross-disciplinary standards. His current work focuses on aligning science information with the semantic web technologies and linked open data principles, and the formalization, publication and maintenance of controlled vocabularies and similar reference data.
He is principal- or co-author of a number of international standards through Open Geospatial Consortium, ISO, and World Wide Web Consortium, including Geography Markup Language (GML), Observations & Measurements (O&M), the Semantic Sensor Network Ontology (SSN), Time Ontology in OWL (OWL-Time), and the Dataset Catalog Vocabulary (DCAT). These have been broadly adopted internationally. The value of cross-disciplinary standards is to enable data from multiple origins and disciplines to be combined more effectively. He has worked across a variety of technologies and institutions.
Simon has held leadership positions in a number of organizations, including Dublin Core Metadata Initiative (Advisory Board), IUGS Commission for Geoscience Information (Executive Committee), Open Geospatial Consortium (Architecture Board, Planning Committee), Research Data Alliance (Technical Advisory Board), American Geophysical Union (ESSI Executive Board), alongside numerous positions on technical working groups and committees.
He was awarded the Gardels Medal by the Open Geospatial Consortium, and presented the Leptoukh Lecture for the American Geophysical Union. His career at CSIRO has been supplemented by stints teaching at Monash University, and as a senior fellow at the European Commission's Joint Research Centre. 
Simon is a member of the team steering the technical side of the CODATA Data Interoperability Initiative, which is using a set of pilot projects to frame the design of some multi-disciplinary data infrastructure. If elected, he would bring a technical practitioner's perspective to the CODATA Executive Committee, and insights around communities and process gained from his experience in a range of standards organizations.
Additional professional details are available at https://people.csiro.au/C/S/Simon-Cox