It was a pleasure to start off the first full day of SciDataCon with a keynote from Elaine M Faustman, Professor and Director at the Institute for Risk Analysis and Risk Communication, University of Washington and member of the ICSU World Data System Scientific Committee.  Professor Faustman's keynote talk, 'Challenges and Opportunities with Citizen Science:  How a decade of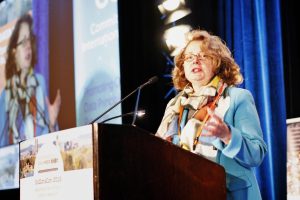 experiences have shaped our forward paths', introduced a welcome early focus on the importance of rigorous ethical approaches to 'citizen science' research projects. Looking back to the early roots of the knowledge practices we now call 'science', Faustman reminded us that of course the roots of these practices can be found in the work of European gentleman scientists and their cabinets of curiosities.   She also situated contemporary citizen science practice in the US legislatory framework of the US citizen's right to know, work which has been underpinned by standards and acts since the 1940s onwards.
Reflecting over a decade of citizen science practice in the environment and public health domains, Faustman provided examples of projects where citizens are not only research subjects but are centrally influential in the work, to the point where they express ownership of the project alongside the university team.  Discussion focused on the importance of the abilty of research participants to influence the direction and scope of the research project, to provide feedback on its progress, and to have access to the data accrued in order to be able – in case of public health projects at least – to use it to guide their own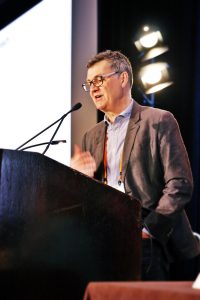 decision-making.  The message of deep ethical engagement and building respectful relationships with participants set the scene for a day in which ethical issues reverberated.
The second keynote was by Simon Cox, Research Scientist, Environmental Informatics, CSIRO Land and Water, Clayton, Melbourne, Australia.  In his talk, 'What does that symbol mean? – controlled vocabularies and vocabulary services', Cox raised a very pragmatic point about the widespread problem of non-systematic use of symbols – and keywords – in data.  He demonstrated that we assume symbols and keywords have some sort of shared meaning, at least in a given community, but that the reality is much less systematic. Symbols and abbreviations with no widely used consistent meaning are often used by researchers when creating data. Popula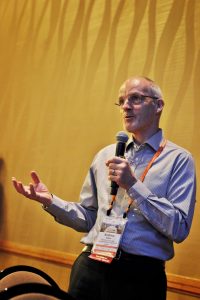 r terms describing volume can mean entirely different things in different countries.  And even symbols of terms describing a widely understood measurement, such as the metre, can be problematic link to a common source: the International Bureau of Weights and Measures provides a definition, which can be found via a given URI. But the fact that this URI has changed regularly from year to year disrupts any expectation of a stable, enduring location for this definition.
Cox suggested a couple of actions to mitigate this situation. Firstly, a new CODATA task group on coordinating data standards will take this work forward. Secondly, the Global Agricultural Concept Scheme – GACS – is the result of three defining sources from agricultural research banding together to deduplicate their respective vocabularies and make them interoperable for agricultural researchers. Cox noted that the technical job is not large but that – in confluence with Faustman's earlier message – the really big job is achieving the buy-in from the community in question.
So the pesky human dimension appears right at the start of International Data Week!  More information on the keynotes is at http://www.scidatacon.org/site/opening-keynote/
Laura Molloy is a doctoral researcher at the Oxford Internet Institute and the Ruskin School of Art, University of Oxford. She is on Twitter at @LM_HATII.