This is the eleventh in the series of short statements from candidates in the forthcoming CODATA Elections. Jane Hunter is a new candidate for the CODATA Executive Committee as an Ordinary Member.  She was nominated by the Australian CODATA National Committee.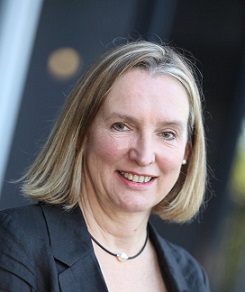 As a Professor and Director of the eResearch Lab, at the University of Queensland, Jane has been responsible for developing solutions for the management, integration, analysis and preservation of large scale, multivariate datasets for the biomedical sciences, environmental and ecosystem sciences, materials sciences, social sciences and humanities. She has published over 150 peer-reviewed papers primarily focussing on ontologies, analytical and visualization services to solve real-world multi-disciplinary problems. In the past 5 years, she has supervised 15 Honours students, 4 Masters students and 10 PhD students in the field of data science. She is also an editor of the Elsevier Journal of Web Semantics (JWS), International Journal of Digital Curation (IJDC) and SoftwareX (which publishes articles about open source software designed to impact the process of scientific discovery).
Jane has been a member of the Australian Academy of Sciences Committee for Data in Science (NCDS) since 2010 and Chair of the Committee since 2014. She is also an observer on the National Committee for Information and Communication Sciences (NCICS).  Other memberships include:
Scientific Committee Member of ICSU World Data System (WDS) (2012-2015);
Deputy Chair of the National Committee for Data in Science (2012-2014);
Australian Representative on Committee on Data for Science and Technology (CODATA);
RDA Data Citation Working Group (2013-2016);
W3C Open Annotation Community Group (2011-2012);
CODATA Taskgroup on Exchangeable Materials Data Representation to Support Scientific Research and Education (2006-2014).
Previous positions have included: Vice-President of the Australasian Association for Digital Humanities (AADH); a member of the National eResearch Architecture Taskforce (NEAT); the International Advisory Committee of the Open Archives Initiative for Object Exchange and Re-use (OAI-ORE); a member of the DELOS Working Party on Knowledge Extraction and Semantic Interoperability and co-chair of APAN's (Asia Pacific Advanced Network) eScience Working Group.
Jane's particular interests of relevance to CODATA include:
Citizen science – in particular, providing common shareable open-source platforms for grass-roots communities to facilitate the collection of data for community-driven projects;
Evidence-based policy making – providing the data management infrastructure to enable better-informed planning and policy making by government, industry and research organisations, especially in the environmental, health and social science domains;
Improving the training and career prospects of data scientists and encouraging more women to adopt this as a career.
In the 10 years since attending her first CODATA meeting in Beijing in 2006, Jane has watched CODATA undergo a renaissance due to the widespread adoption of digital technologies across all disciplines, and the acknowledgement of the critical role that collaborative data sharing plays in addressing global scientific challenges. Through both the national and international projects she's been involved in, Jane is ideally positioned to articulate how open data and open science policies together with shared infrastructure, can expedite scientific discovery. If she was elected to the CODATA executive, she would: help to expand linkages between CODATA, WDS and RDA through joint Task Groups; organize a workshop for female data scientists in developing countries; contribute to Special Issues of the Data Science Journal on topics such as "Women in Data Science", "Evidence-based Policy Making", "Balancing Open Access with Privacy".