This is the fourteen in the series of short statements from candidates in the forthcoming CODATA Elections. As an existing member of the CODATA Executive Committee, Der-Tsai Lee is applying for re-election as an Ordinary Member.  He was nominated by the Academia Sinica Taipei
I welcome this precious opportunity, representing CODATA Academia Sinica Taipei for the past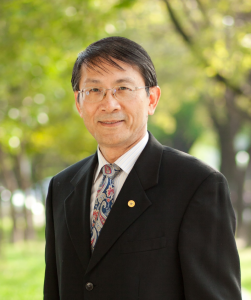 two terms (2012-14, 2014-16), to stand for re-election to serving on the CODATA Executive Committee (2016-2018).
I have been involved with CODATA since 2007, serving as the Chair of National CODATA Committee, until 2012, when I was leading and hosting CODATA 23 Taipei (2012) and elected to be a Member of the CODATA Executive Committee.
In the past four years, during my two terms of serving on the CODATA Executive Committee, I have served as a liaison between the Task Group of Global Roads Data Development, I have contributed to the cultivation of young data scientists, early career data professionals, and I have focused on promoting open data, data citation practices to scientific communities within scientific organisations of CODATA Academia Sinica, Taipei, and governmental agencies of Taiwan.
With the effort of CODATA Secretariat and connected organisations, CODATA has been transformed from a historical grouping to an organisation that is active on the front line where scientists world-wide collaboratively work together to face the new challenges created by the transformations in our use of data.  I have very much appreciated the past decade of participation and involvement on data sharing and exchange, and I am especially honoured and welcome the opportunity to stand for the re-election to serve as CODATA Executive Committee Member.
Past Experiences and Achievements
I am a senior computer scientist with more than 30 years of experience, teaching in Northwestern University, USA for 20 years (1978-1998), and led the prestigious Institute of Information Science, Academia Sinica in Taiwan for more than a decade (1998-2008), elected as the Academician of Academia Sinica (2004-present). I have also been awarded Life Fellow of Institute of Electrical and Electronic Engineers, USA (2015-present), Distinguished Alumni Educator Award, Dept. CS, University of Illinois at Urbana-Champaign, Illinois, USA (2014–present), Ambassador Scientist of Alexander von Humboldt Foundation, Germany (2010–2015) and Member of The World Academy of Sciences (TWAS), Mexico City, Mexico (2008–present).
I served as the President of National Chung-Hsing University and led the agriculture-based comprehensive university for 4 years (2011-2015), facilitating regional development, international academic collaboration and higher education reform. In more than 20 year service contributing to the Taiwanese government, while leading a cross-ministry multidisciplinary digital archives and e-learning program and information security program, I have introduced effective institutional changes to facilitate the usage, sharing and dissemination of cultural data, protection of private data and openness of scientific data, and to cultivate young researchers and scholars nation-wide and globally.  I currently serve as a senior advisor to the government for the scientific policies of information and communication technology and cybersecurity.
Recently, Taiwan has been on the track of instilling changes both at the governmental level and within the community of data scientists and data professionals.  Taiwan has advanced from 11th place in 2014 to the 1st place in the 2015 Open Data Index survey released 2015.12.09 by the Open Knowledge Foundation (OKFN). This report of advancement represents international affirmation of Taiwan's open data policies achievements over the past year. While there are changes in the public sector, our data science community has hosted the 3rd Annual Data Science Symposium on July 14-17, 2016 (http://datasci.tw/) with thousands of attendees. The new government and local municipal initiatives, as well as active self-motivated community scientists and data professionals, are forming new connections to kick-off changes in public and private sectors.
Having served as a member of the Executive Committee of CODATA, and given the prevalence of data science, I share the vision and scope that CODATA forerunners and current Secretariat have established. With no doubt I am most pleased to welcome this opportunity to help promote data science and data citation, with my computer science expertise, academic networking, and most of all, personal commitment.
Future Focuses
In this coming term, if elected, I will focus more on bridging CODATA with regional member organisations in Asia-Pacific Rim, exploring common data community interests and data science collaboration.
Deepen the connection between CODATA and regional scientific community through academic networks (e.g. 2017 Data Science Symposium and regional data science workshops);
Cultivate data science/data policy experts in Asia-Pacific Rim and future leaders, via alliance with global and local organisations (e.g. Open Knowledge Foundation (OKFN), and Taiwan Data Science Foundation).
Collaborate with emerging and existing governmental and community organisations to explore multidisciplinary data science/open data challenges (e.g. Cultural Affairs Bureau, Taichung City Government, and Ministry of Culture, Taiwan) ;
Conclusion
In summary, I have been involved in CODATA for the last decade, and it is a great opportunity for me to contribute my knowledge, networking and influence to the global community. I hope to bring more young and new minds into CODATA family, and address multifaceted data challenges facing us all in the future.
Dr. Der-Tsai Lee's complete personal profile can be accessed at: bit.ly/codata_der-tsai_lee