The programme for the ICSU CODATA Workshop on Big Data for International Scientific Programmes which is taking place in Beijing on 8-9 June has now been finalised and is available here: CODATA Big Data Workshop Programme-FINAL.
The workshop is convened with a number of international partners, including the ICSU World Data System, Future Earth, Integrated Research on Disaster Risk, the Research Data Alliance, the Group on Earth Observations, the International Society for Digital Earth, and the Institute of Remote Sensing and Digital Earth (RADI) of the Chinese Academy of Sciences (CAS).  The workshop aims to provide a better understanding of the opportunities and challenges of 'Big Data' for international collaborative science programmes, and to promote international and cross-disciplinary collaboration, in the age of Big Data.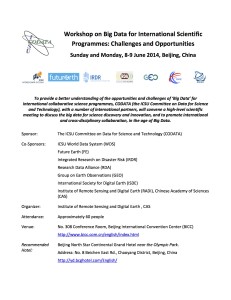 It is intended that proceedings and a report of the workshop will be published in the CODATA Data Science Journal, while a 'statement' or position piece will be submitted to a high impact publication. Above all, the workshop brings together Big Data experts and researchers involved in international research programmes and identify opportunities for future collaboration to facilitate specific research objectives: the objective is that such discussions should help set the agenda for CODATA to help convene collaborative activities in support of 'Big Data for International Science'.  Likewise, these themes will feed into SciDataCon 2014, the International Conference on Data Sharing and Integration for Global Sustainability, in New Delhi in November 2014.
Please note that the workshop is by invitation only and the programme is published for information.