During the recent GEO Plenary, an article appeared on SciDevNet that communicated the case for the importance of such data sharing initiatives.
In the article, Paul Uhlir—one of the CODATA co-chairs of the GEO Data Sharing Working Group—makes the point that for developing countries, the belief that government data may represent a lucrative revenue stream is deeply misguided.'  Sometimes government and research data from developing countries is seen as a valuable commodity that can be monetized: 'but, quite frankly, open [data] policies are much more economically generative than closed ones.  By hoarding the data they're minimising massively its value for other uses and shooting themselves in the foot.'
This is particularly strongly the case for geospatial data.  As the article points out:
The potential of such data that incudes geographic positioning information, including satellite imagery, to aid fields such as disaster response, agriculture, conservation and city planning far outweighs any potential value from selling the information.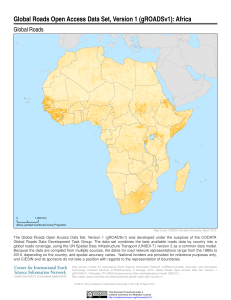 The articles also highlights the work of the the CODATA Global Roads Task Group to create Open Access roads data set.
Although companies already provide accurate road maps, data cannot be extracted freely for other applications, limiting their use to navigation, or to commercial users with deep pockets.
By offering open-access information, gROADS allows the development sector, governments, civil society and researchers to conduct studies, plan services and develop new applications from the existing data sets.
Read the rest of the article at http://www.scidev.net/global/data/news/misguided-nations-lock-up-valuable-geospatial-data.html