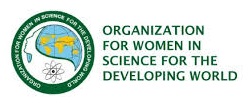 OWSD is now officially accepting applications for the new fellowship for Early Career Women Scientists (ECWS). Simply click on 'Apply now' to begin your application. You may also save your application at any time to continue working on it later; click 'Resume' to continue. Please note that application materials will be accepted only through the online system.
As a reminder, this fellowship is a prestigious award of up to USD 50,000, generously provided by Canada's IDRC/CRDI, and is offered to women scientists from Science and Technology Lagging Countries (STLCs) who have completed their PhDs in Science, Technology, Engineering and Mathematics (STEM) subjects and are employed at an academic or scientific research institute in one of the eligible countries. ECWS fellows will be supported for two years to continue their research at an international level while based at their home institutes, to build up research groups that will attract international visitors, and to link with industry.
Though applications must be submitted in English, all information about the programme is also available in French on the website.
The full Call for Applications is here. English  French 
The deadline for completed online applications is 31 August 2018.
Questions may be sent to earlycareer [at] owsd.net