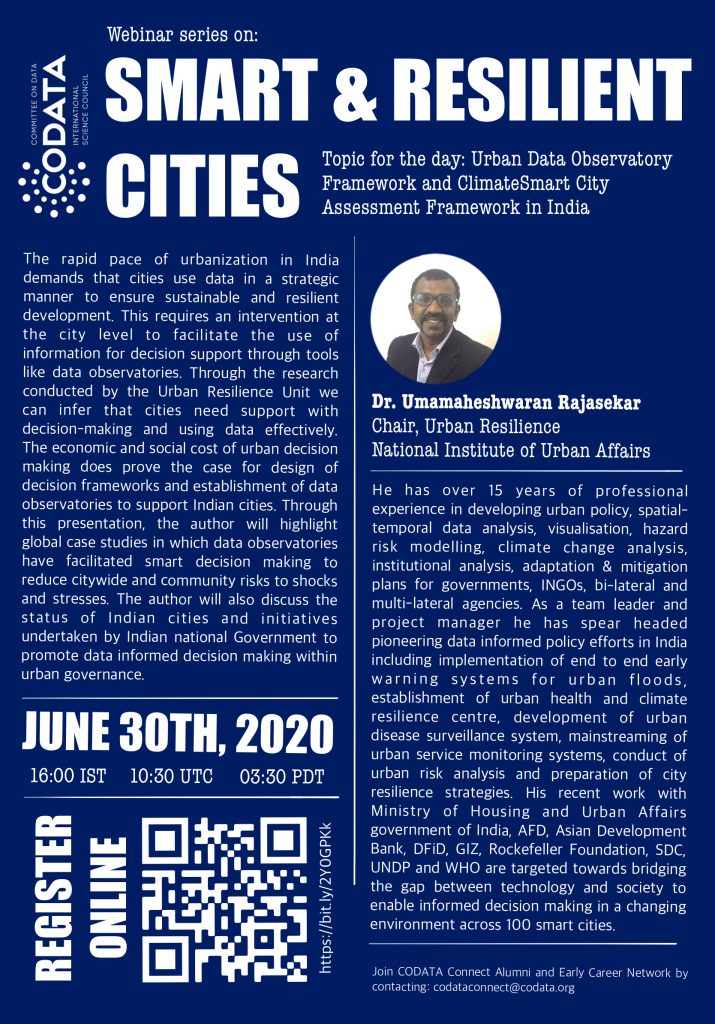 On 30 June 2020, a webinar titled "Urban Data Observatory Framework and ClimateSmart City Assessment Framework in India" was organized by the CODATA Connect Alumni and Early Career Network. This was the fifth webinar in the series on Smart and Resilient Cities, while other webinars are planned in the coming months throughout 2020. Dr. Shaily Gandhi of the CODATA Connect introduced the speaker and theme of the webinar series. As introduced, the speaker Dr. Umamaheshwaran Rajasekar is the Chair of Urban Resilience at the National Institute of Urban Affairs (NIUA) in New Delhi, India. As a team leader and project manager, he has spearheaded pioneering data-informed policy efforts in India including implementation of end to end early warning systems for urban floods, the establishment of urban health and climate resilience centre, development of urban disease surveillance system, mainstreaming of urban service monitoring systems, the conduct of urban risk analysis, and preparation of city resilience strategies. He has recently worked towards bridging the gap between technology and society to enable informed decision-making in a changing environment across 100 smart cities in India.
Umamaheshwaran began his talk by introducing India's urban futures. He opined that half of India's population is expected to be living in urban areas by 2050. Indian cities need to be better prepared to accommodate the expected growth as well as manage shocks and stresses. He further stated that many cities in India face challenges in providing essential civic services and managing their natural resources. He also opined that the poor planning for Indian cities would cost the economy between 1.2 and 6.3 percent of GDP. Many Indian cities are underprepared to manage shocks, such as the Chennai floods in 2015, and the Cyclone Hudhud in 2014 resulted in cumulative damages worth more than INR 240 billion, and loss of many human lives. Additionally, 116 AMRUT cities and 30 smart cities in India are prone to high risk of earthquakes. He then introduced the Datasmart Cities initiative in India of the Ministry of Housing and Urban Affairs (MoHUA) to help 100 smart cities promote data for better governance and innovation. In 2020, MoHUA established the Climate Center for Cities (C-CUBE) within NIUA with a vision to build climate actions in cities. This is a one-stop-shop for informed climate actions. He then introduced the Climatesmart Cities Assessment Framework 2.0, a first-of-its-kind city assessment framework on India's climate-relevant parameters. The Framework is progressive and aspirational in nature and includes indicators in five broad categories, namely, Energy and Green Building; Urban Planning, Green Cover and Biodiversity; Mobility and Air Quality; Water Resource Management; and Waste Management.
He then discussed the concept of Data Observatory for Indian Cities. He defined an urban data observatory (UDO) as a platform that serves as a repository for accurate and frequently updated city-specific spatial and non-spatial data, and aids as a decision support system. The decision-makers will be able to use the data observatory to visualize trends, analyse data, and build scenarios to help stakeholders solve complex urban problems. The UDO adopts a multi-stakeholder and multi-sectoral approach, collating and visualizing data from various government and non-government agencies. He informed the audience that the NIUA is establishing a UDO in Chennai very soon in collaboration with Chennai Smart City Ltd, the Madras Chamber of Commerce and Industry, and IIT-Madras. He then presented a use case on water challenges in Indian cities. At the same time, a typical UDO for an Indian city serves the stakeholders such as the Municipal Commissioner, local businesses, and city dwellers. For each stakeholder, how a UDO contributes to a changed scenario is also discussed.
Mr. Felix Emeka Anyiam of the CODATA Connect moderated the Question and Answer session and was assigned to obtain questions from the online participants keyed into the webinar question handle. Some of the questions were related to the urban rejuvenation of Indian cities, their sustainability pathways, green cover, online availability of city-level data, data-driven decision making, and the climate-smart city assessment framework.
The session was concluded with a vote of thanks presented by Shaily. She also announced the forthcoming activities of the CODATA Connect, including an Essay Writing Competition on "Open Data Challenges to Address Global and Societal Issues", the second webinar series "Research Skills Development", and Smart and Sustainable Cities Datathon for the CODATA alumni and early career professionals.
Prepared by:
Anup Kumar Das
(Jawaharlal Nehru University, India, anup_csp@jnu.ac.in)