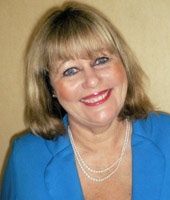 This is the twelveth in the series of short statements from candidates in the forthcoming CODATA Elections at the General Assembly to be held on 9-10 November in Gaborone, Botswana, following International Data Week. Pamela Maras is a candidate for the CODATA Executive Committee as an ordinary member.  She was nominated by IUPsyS.
Professor Pam Maras (CSci, CPsychol, FBPS)
Professor Pam Maras is the President of Union of Psychological Science (IUPsyS) which is a full member of the International Science Council.
CODATA is important as a scientific committee of ICSU in promoting "the effective exploitation of data as the single most important international issue of "policy for science"". CODATA is in a unique position at the pivotal tine of the inaugurated International Science Council (ISC) as the global body to represent international science in all its forms in the promotion and dissemination of science. The ethical and open access of 'big data' including for public good is essential in the fast changing environment and can only really be achieved through geographic and disciplinary collaboration, that includes all areas of the science community (represented in ISC) and in all regions of the world.  A challenge for us, is to ensure that scientists collectively 'buy in' to processes including for data that are less easy to curate generated from the social sciences. It is this area that Professor Maras would offer expertise.
As a psychologist Professor Maras' contribution if elected would be in relation to human behavior; both of the scientists likely to draw on 'big data' and the outcomes of research drawing on 'big data' including in areas of interdisciplinary relevance.  Professor Maras has expertise directly relevant to the impact of large data, and the development and implementation of policy and its adoption in an ethical manner. This can only really be effectively and achieved with integrity if common process for curation, storage and inclusion are not only designed but adopted; the latter is likely to be as hard or harder than the former and requires a shared understanding and commitment to act which can only be achieved by cooperation and agreed compromise.
Pam Maras is Professor in Social and Educational Psychology at the University of Greenwich, London, U.K., where she holds a senior leadership position (including as Chair of the University Ethics Committee and in international collaborations). She researches and publishes in the applied area of social inclusion; particularly in relation to children and young people's self-concept, social identity, learning and behavior across the world. Her publications included in the UK national assessment of research excellence in 2014 (Research Excellence Framework, 2014) were independently rated as internationally excellent or outstanding. She has attracted considerable personal research funding and has research collaborations including in Africa, Australasia, China, Europe (including France, Nederland, Spain and Italy), the Nordic Countries (including Norway) North and Latin America and SE Asia.
Professor Maras has international leadership experience outside of her employed post, she has  held elected positions in the British Psychological Society (BPS) including as President where she  led the portfolio for international links, during which time she forged links with other associations leading to memoranda of understanding as a means of ensuring collective activity in Europe and more widely. As a member of the IUPsyS leadership team for international capacity building for eight years.  Professor Maras has taken a principled approach to the involvement of geographic regions in setting their own agenda. This has included work in Eastern Europe, the ASEAN region, the Caribbean and Latin America, having been involved in activity leading to declarations of regional collaboration in the Caribbean and Africa.