Dear colleagues,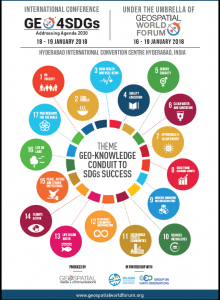 Adopted in 2015, Agenda 2030 outlines 17 diverse set of goals that touch several domains, yet are systemically interconnected and entwined with each other. Any shift or change in one segment can and will impact several others. Which is why it's crucial for multiple stakeholder communities to work collectively to be successful. What is required is coordination, communication, and cohesiveness of policies and program implementation that can be built upon reliable systems, tools and technologies.
Geospatial technologies with its ever-growing reach and impact offers an ideal solution for creating infrastructure and system that can help integrate datasets from a diverse range of sources to provide smart analytics for decision making and effective communication.
Acknowledging and aligning potential value of geospatial technology for Sustainable Development Goals,

 

Geospatial World Forum

 

shall host a two-day international conference
Geo4SDGs: Addressing Agenda 2030
 

on

 
January 18-19, 2018
at
HICC, Hyderabad, India
.

 
The conference is supported by

 

United Nations Global Geospatial Information Management Expert Group,

 

Group on Earth Observations, Google Earth Outreach, Radiant.Earth, ICIMOD, Bill and Melinda Gates Foundation, Dutch Kadaster and World Resources Institute
. The conference themed,

 

'Geo-knowledge conduit to SDGs success', aims to provide a platform to bring collaboration and liaison among government agencies, commercial sectors, multilateral and international development organization and the civil society through initiating detailed discussions. The conference aims to bridge the gap between the geospatial community, the IT community, the policy makers and the pursuers of the SDGs.
We are happy to share the
panelists for Geo4SDGs
. The distinguished plenary speakers and panelists will be sharing their insightful stories and experiences on topics that will highlight the applications of geospatial data, tools and technologies for monitoring and evaluating the SDGs. If you are interested to attend the conference, please contact Ms. Megha Datta at
megha@geospatialmedia.net
o
r call her at 9811049987.
We look forward to hearing from you.
Warm regards,
Megha
*********************************************************
Director – Sales and Business Development
Market Intelligence and Policy Advocacy Division
Geospatial Media and Communications Pvt. Ltd.
A-145, Sector – 63, NOIDA (U.P.) India – 201301