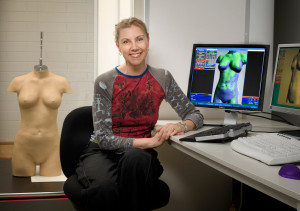 This blog post is written by Daisy Veitch, co-chair of the CODATA Anthropometric Data and Engineering and founder/CEO of SHARP Dummies.
The objective of the CODATA Task Group on Anthropometric Data and Engineering and the WEAR (World Engineering Anthropometry Resource) project is to promote distribution and development of knowledge in anthropometry and to contribute to the improvement of health and safety of all people.
In August 2009 in Beijing a web portal was opened by the president of the International Ergonomics Association that gives access to anthropometric data and tools to use it. This was co-sponsored by CODATA. The initial site contains a limited set. Having said that the 'limited set' contains about 130 datasets including the North American portion of the CAESAR database (which is the most comprehensive, high quality anthropometric dataset ever collected). The plan is to continue to expand the data and tools over the years.

A WEAR/CODATA meeting was held on 18 November 2013 in Long Beach, California, USA. The participants also attended the 3D body scanning conference held in Long Beach on 19-20 November 2013, where two WEAR sessions were also held.
During the 18th November meeting, WEAR members discussed the possibility of changing membership categories, particularly to make it easier for students to be a part of the organization, they also looked at a viable social media strategy to ensure that WEAR is able to spread information easily on the web and provide a more accessible platform for those retrieving WEAR data. We encourage people to sign up for newsletters at www.bodysizeshape.com. Additionally, those present discussed the new datasets which were added to the WEAR portal and made plans for future uploads. WEAR representatives appointed new officers and made plans to attend the CODATA meeting in India in 2014, SciDataCon 2014.

The 3D body scanning conference held on 19-20th November 2013 and its parallel exhibition was held to fulfil the demand for an international event focused on 3D human body scanning technologies, 3D human body measurement methods and applications.
This event is a mixed technical and sales platform dedicated to these specific fields that reaches a very broad cross- disciplinary audience. In the last two decades, 3D scanning technologies developed in other industrial sectors were successfully applied to the measurement and scanning of the human body. Methods and techniques are continuously ameliorated, more efficient and performing scanning systems are produced every year and new software tools are developed unceasingly. Development drivers include price, so there is an ever increasing need to develop awareness about quality assurance and as well as quality tools themselves.  The international conference and exhibition on 3D body scanning technologies serves as a platform for the information on the latest developments and interesting applications in various sectors, as well as, for building relationships and exchanging ideas between manufacturers, users, developers and researchers from around the world.
Professor Kath Robinette, Co-Chair of this CODATA task group was the keynote speaker – The keynote speech highlighted that new technology is valued for reasons including that it looks impressive, that it enables us to do something better or cheaper, that it is easier to use and that it enables us to do something we couldn't do before. However, there was a key lesson to be examined among these points. Dr Robinette identified that just because a technology is newer, it does not automatically make it better than the older technology.
Dr Robinette further explored anthropometric technology and its evolution during her presentation and then discussed where the goals and aims which are associated with 3D scanning are directing the science of anthropometry. It was explained that although 3D modelling is a highly effective enabler in determining shape, volume and contours, 1D instruments like the tape measure are still markedly superior over 3D imaging in terms of measurements like circumference. The speech sent the message that although 3D imaging is a crucial implement to use to enhance studies in the field of anthropometry, it is not yet enhanced enough to disregard the importance of getting information from multiple sources including 1D traditional measurement. The most effective way of gaining accurate models is achieved through the use of multiple data collection including fit data.  She said that made-to-measure, size prediction from scans, virtual try-on models, digitial human models and similar technologies continue to be developed and fail.  Each going out of business eventually.  Why?  Because they do not include fit measurements.  You need to measure fit if you want to predict it and the future of anthropometry needs to include fit measurements.  She gave many examples and illustrations about why fit knowledge is essential to success. Dr Robinette's abstract can be found here for interested parties: 3D Body Scanning, Past and Future.
During the CODATA/WEAR meeting some issues regarding global sizing were highlighted, particularly that of creating a universal sizing system. Members acknowledged the difficulty of sharing products designed for different ethnic populations especially from the fit and the safety perspective. It was suggested that the standardizing data collection for body size and shape and collecting matching fit metrics for these populations would be very desirable to make fit predictions. In essence we want to add fit mapping to national anthropometric surveys and standardize the data collection process to enable effective global sharing.  A fit mapping project has been proposed so that populations can be compared and predictions could be made more accurately. A base for this is the Sizing Up Australia project.

Thanks in part to CODATA support, the Global Fit Map group will have its first meeting in Oklahoma City in March of this year, then meet again in India in 2014 at the CODATA-WDS Conference, SciDataCon 2014. Participants will include Australia, Brazil, India, Korea, Nigeria and USA.
Without the help of CODATA, WEAR would never be able to share high quality anthropometric data with members all over the world. This collaboration is fantastic because it makes our information accessible with the click of a button. Our involvement with CODATA will ensure that anthropometric data is readily available to access, and encourage more involvement with our work.

The WEAR/CODATA partnership provides a platform where the task group can share a cohesive goal for leading researchers to collaborate together. It also allows experts to work on projects as a team, which is excellent because the workload for researchers is often too large for just one person. This ensures that expert information is shared and a high standard of work is maintained. The most recent success of the WEAR/CODATA collaboration is the publication of Sizing Up Australia – The Next Step; a report which focuses on the evidence and method for developing and conducting the first Australian Body Sizing Survey. Thanks to CODATA, this has led to a potential international survey about body sizing and fit mapping referred to earlier. The WEAR/CODATA platform has not only brought people together, it has created action. It has enabled us to disseminate data, but more importantly it is influencing how and what data is collected throughout the world.