This post is by Elizabeth Griffin, chair of the CODATA Data at Risk Task Group.
The immediate objective of the Data At Risk Task Group (DAR-TG) is to raise awareness of the existence of large amounts of analogue (pre-digital) records – observations and measurements – that contain important and unique scientific information but are inaccessible electronically. The overall objective is to facilitate the conversion of the scientific content of those historic data to electronic formats for inclusion in modern research, where their special contributions can be utilised to the full; the matter is especially critical when long-term changes need to be measured accurately. An important step towards those goals is to raise both public and specific scientific awareness of the seriousness of neglecting historic data, and to illustrate the benefits through examples of successful data recovery.
DAR-TG at the UNESCO Memory of the World Conference
A Special Session held by DAR-TG held at the UNESCO Memory of the World Conference (Vancouver, September 2012) accentuated the important role of collaboration in endeavours to rescue the information from imperilled data which at present only exit in analogue forms. Such collaborations transcend the specificities which separate individual data types. Moreover, they advance the goals of the UNESCO programme by addressing and complementing an area that is not as yet explicitly supported.
DAR-TG Panel Discussion at Digital Heritage 2013
DAR-TG was awarded competitively a 2-hour Panel Discussion at Digital Heritage 2013 (Mar- seille, October 2013) entitled 'A Joint Heritage: where science and culture meet'. The invited Panellists represented a broad span of specialities: bio- diversity at the Berlin Botanical Museum [Agnes Kirchhoff], metadata and library science at the University of North Carolina [Davenport Robertson], watershed and estuary stewardship with IEDRO and Citizen Science [Carmen Skarlupka], digital humanities at London University [Marilyn Deegan], digital philology and classics at the University of Oxford [James Brusuelas], astrophysics research at Canada's Dominion Astrophysical Observatory [Elizabeth Griffin] and at the Royal Observatory of Belgium [Thierry Pauwels], and climate research (also engaging citizen science) at the UK Met Office [Rob Allan and Philip Brohan].

Despite that broad span, and the very different kinds of materials, tools and skills that were required by any data-recovery task in the different research domains, what emerged during an energetic discussion was an overarching commonality of challenges, problems – and also, to some extent, of solutions – which Panellists described. The scientists emphasised that the research need is a prime driver for historic data recovery, so broadcasting the results of a data-rescue project are critical in accounting for each spend of resources. In the humanities, communication can be fraught with difficulties, whether of language, data de-coding, identifying contacts or ascertaining locations. The problems encountered may be project-specific, but solutions can be made economical by sharing methodologies or software, and citizen science is a resource that should be more widely tapped everywhere. The all-important battle for funding is definitely best addressed by a consortium endowed with a common voice, rather than by individuals or isolated groups. Advocating Best Practice and sharing progress through international workshops were named as reliable starting points for progress, so Panellists have remained in touch and are preparing a report based on the discussions that took place, as their first steps towards realizing that ideal of international collaboration.
Preserving and Adding Value to Data in Science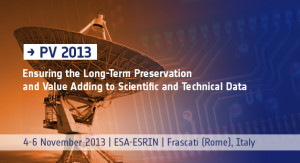 The theme of historic data rescue efforts in Earth sciences was subsequently given space at another workshop, Preserving and Adding Value to Data in Science (Frascati, November 2013), reaching an audience primarily involved in born-digital data. Frequently-issued reminders of the broader and possible trans-disciplinary applications of those data were well absorbed by the audience, and became enshrined in the meeting's formal Conclusions; they also resulted in a telecon interview, follow-up enquiries, and a request for membership of the DAR-TG.
'Principle Guidelines' for Data at Risk